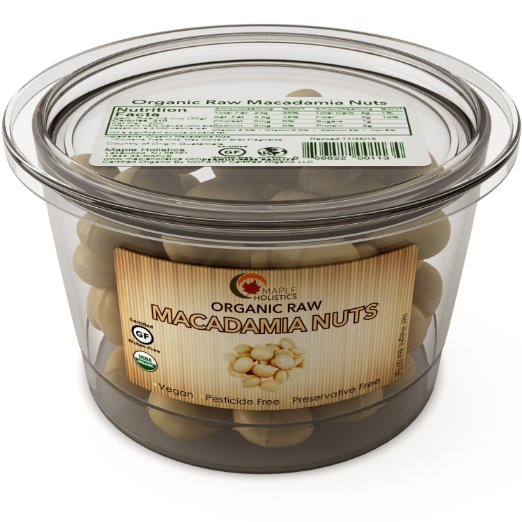 - July 4, 2016 /PressCable/ —
Building on their already-successful line of hygienic, hair, and skin products, Maple Holistics has announced the release of a new package of USDA Organic Macadamia Nuts as they attempt to further establish footing in the health foods market. One of many in a line of new and critically acclaimed food products from Maple Holistics, the macadamia nuts are 100% natural, organic, vegan, gluten free, salt free, and kosher.
Featuring high protein, iron, magnesium, potassium, and fiber content, as well as low carbohydrate content, Maple Holistics' organic macadamia nuts have been praised for their nutritional value as well as for their great taste and flavor. The fat content in macadamia nuts is between 78 to 86 percent monosaturated. Known for promoting heart health, monosaturated fats have been known to lower cholesterol as well as risk for heart disease and stroke. Additionally, macadamia nuts are one of the only food sources available that contain palmitoleic acid, which is known to speed up the metabolism and promote weight loss. The nuts are promoted as working as a great snack or in everyday baking.
Primarily known for their hygienic, hair, and skin products, Maple Holistics has begun to introduce all-natural food products in their continued attempts to provide customers with the best in products that promote a healthy lifestyle. Like their hygienic products, the macadamia nuts are made naturally and with an eye towards environmental friendliness. The nuts are packaged in BPA-free and re-sealable packaging, with the highest standards of processing methods in order to ensure that the nuts retain their freshness. Available on Amazon.com or on the Maple Holistics website, the new Macadamia Nuts join Raw Pepita Seeds, Goji Berry Fruit, Brazlian Nuts and more in the latest in Maple Holistics food products.
About the Company
Maple Holistics provides industry leading, all-natural hair, body, skin, and food products. The company offers a natural, holistic range of premium products which can enhance hygiene, health and daily living. Company products are made in the USA.
Release ID: 122081