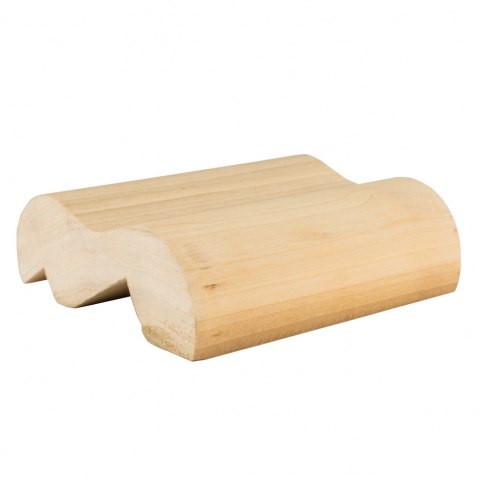 - October 24, 2017 /PressCable/ —
Los Angeles, California – October 20, 2017
With home renovation professionals predicting another above-average growth in their industry, a recent survey from Servicemaster.com reveled that two out of five modern American homeowners said they have a man cave in their house, while another 13% said they are in the process of putting one together in the next year. Fueled by the desire to enjoy quality entertainment systems or to distress, man caves are growing in popularity as they make good use of unused space in places such as garages and basements.
Blumer & Stanton, a company known for their custom milled wood bar tops, understands the growing trend of at-home bars in man caves. Created with the user experience in mind, Blumer & Stanton's Wood Bar Rail Moulding features a Chicago-style edge which enables people to lean against it, and rest their arms or elbows on it. Blumer & Stanton's Wood Bar Rail Moulding is crafted by hand, and is pre-notched to last decades. Milled from maple wood, Blumer & Stanton's bar rails are designed to stand up to heavy use, which is why it is one of Blumer & Stanton's most popular items. A company spokesperson states, "Our Bar Rail Moulding is appropriate for indoor residential or commercial use."
Additionally, the spokesperson adds, "Our Bar Rail Moulding is pre-notched to fit perfectly over a ¾" bar top and ¾" sub surface, which is a construction technique preferred by professional carpenters for a more stable and sturdy bar. Aside from installing it in a man cave, our Blumer & Stanton Bar Rail Moulding can be also used in a restaurant bar top, a pub, a home bar, and residential dens."
As man caves continue to become increasingly popular, many home improvement experts say wet bars in man caves are an important selling point when the home goes on the market, and that they add value to a home. Furthermore, men have always had their sacred places in a home, and are spending more time at home. Blumer & Stanton offers Amazon customers a full satisfaction guarantee, and will replace a damaged product as long as the material has not been altered in any way. People who are interested in knowing more about the company or their products can visit their website or Amazon.
https://www.amazon.com/s/ref=nb_sb_noss_2?url=search-alias&field-keywords=bar+tops&field-brand=blumer+&+stanton
About Blumer & Stanton, Inc:
Blumer & Stanton Enterprises is located in West Palm Beach, Florida, and was established in 1946. Blumer & Stanton primarily operates in the Millwork business, making quality custom woodwork. For over 71 years, the company has had the privilege of serving South Florida's distinguished and quality-conscious builders with custom architectural woodwork, entryways, cabinets, columns, doors, shutters, and wood moulding profiles – from elegant upscale residences to high-end commercial projects. For decades, Blumer & Stanton has been widely recognized as an innovative and leading manufacturer of bar rail mouldings.
https://www.amazon.com/s/ref=nb_sb_noss_2?url=search-alias&field-keywords=bar+tops&field-brand=blumer+&+stanton
Release ID: 254004