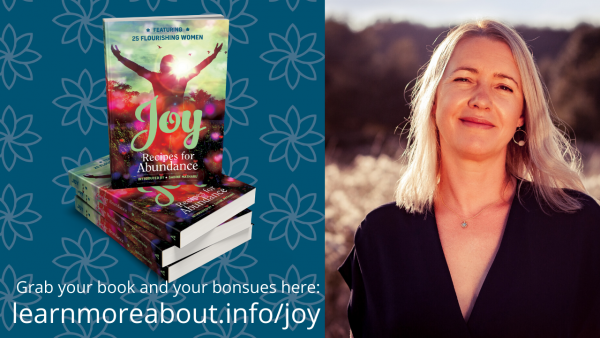 - February 4, 2020 /PressCable/ —
Emma Gosling's story is one of the many inspiring real-life stories that readers will learn from in a newly published book: "Joy – Recipes for Abundance".
She is a transformational therapist and mindset coach as well as a clinical hypnotherapist, Quantum Life Technique practitioner, speaker and teacher. She specialises in helping women overcome dis-empowering behaviours and their struggles with comparison, self-sabotage, unworthiness and the fear of being visible in life and business. She helps them to become rejection proof and find their voice and confidence to live a balanced, abundant and purposeful life.
With a desire for more freedom to spend in the present moment, Emma Gosling reaches for the root cause of a life lacking in joy to empower and free the mind of self-doubt. Realising that for women, every last ounce of energy is often dished out to external forces, she explores the patterns of behaviour and beliefs that stop her from experiencing joy on a day-to-day basis. Her story follows her creating more space for joy by living a life in balance, in abundance and in service to the thing that is our most precious catalyst for greatness.
Emma's story is one of twenty-five joyful and inspiring stories published in "Joy – Recipes for Abundance" by Sabine Matharu of Reach For Greatness Publishing, the second in a series of four books where entrepreneurial women share their recipes for joy and abundance through tales of overcoming, determination and gratitude. From nutrition, travel and community to spiritual practise, compassion and self-realisation, they each reveal their unique recipes towards creating a joyful and abundant life, available to each of us.
This book offers inspiring, lived ideas for all women to awaken to joy and through these joyful narratives, you will discover how to:
– Nourish joy through the grips of adversity
– Stir up opportunities for joy in the small, 'everydayness' of life
– Create a strong and lasting foundation to keep bringing more of it into your life
– Share the sweet taste of joy with the world and those around you
– Become inspired to create your own recipes for joyful abundance.
One of the readers said: "The women in this book have truly harnessed what it is to live in JOY. Their stories are phenomenally inspirational and will have you hooked from the get go".
You can download the book here: https://www.learnmoreabout.info/joy
Connect with Emma: www.feelgoodenough.co.uk
Release ID: 88945035