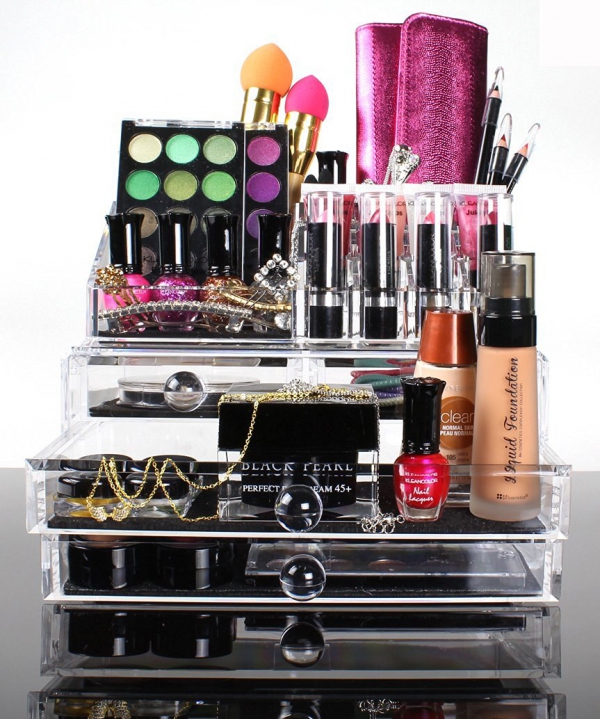 - November 8, 2016 /PressCable/ —
The makeup organizer by Cosmopolitan Collection has quickly become a customer favorite. Made of a durable, clear acrylic that is durable, scratch resistant, shatterproof and easy to clean. The unit contains four drawers that easily slide open and can hold things from makeup pallets to lip stick. Sixteen compartments of various shapes and sizes complete the rest of the organizer and can hold makeup brushes, nail polish any number of makeup items.
Rob Bowser, the company spokesperson for Cosmopolitan Collection, stated, "We have created this wonderful, durable product to help people to organize their lives. We appreciate the reviews and reception that we have received thus far, and to show our appreciation, we offer this Guide." The Guide contains both photos and text that illustrates various uses of the acrylic makeup organizer, and is intended to assist customers in maximizing the benefits of the organizer.
Over 120 customers have left reviews for the Cosmopolitan Collection Amazon makeup organizer. Of the 120 reviews received thus far, 97 percent of customers state they like their makeup organizer. One verified purchaser wrote, "PERFECTION!!!!!!!! AMAZING PRICE!!!! Doesn't fit all my makeup cuz I have SO much of it but it organizes so well!!! All my tweezers and scissors in one drawer…no more freaking out not being able to find stuff I use and need everyday… Pretty. Stackable. Love it!"
The Makeup Organizing guide is offered for free to any customer who has purchased the Cosmopolitan Collection storage unit. The Cosmopolitan Collection makeup organizer is sold exclusively on Amazon.com for $29.97, and any purchase of more than $49 will ship at no cost.
About Cosmopolitan Collection: "As an honest and ethical company, Cosmopolitan Collection focuses all energy, resources, and effort to organizing the world in a beautiful way. By creating a single, acrylic makeup organizer, Cosmopolitan Collection works to improve the world by bringing the best quality makeup organizer in the world to market so that all men and women can use and enjoy the product at a reasonable price."
Release ID: 144204