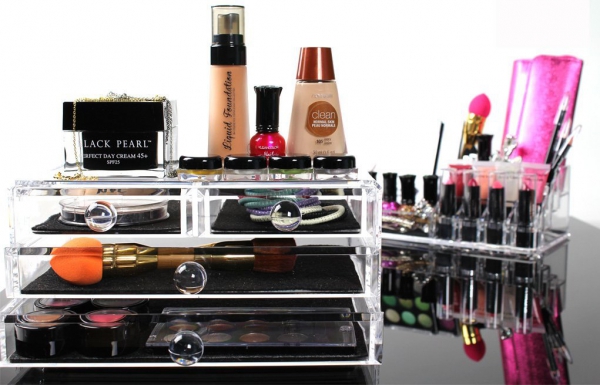 - May 1, 2017 /PressCable/ —
It is now May, the busy time of year filled with school ending, graduation parties, and bridal showers. Often people scramble to find the perfect gift for the bride or graduate. Today Cosmopolitan Collection issued a statement informing customers about why their acrylic makeup organizer is the perfect gift for both occasions.
"Both weddings and graduations are big life changes for the people involved," explained Cosmopolitan Collection spokesman Rob Bowser. "One chapter of life is ending, while a new chapter is waiting to begin. This new chapter involves many changes, often including moving into a new home or apartment. Organization now, and in the future, can prove helpful and as a great destresser. Having a place for everything not only saves time each morning while you get ready, but also makes life much less stressful, as you are no longer wondering where something might be. Our organizer is the perfect addition to any household. In addition to organizing makeup, customers have contacted us with stories of how they use it to organize office supplies, tools, craft supplies…..the options are limited only by your imagination. Find a unique gift this season – consider our organizer."
The Cosmopolitan Collection acrylic makeup organizer is made of strong, high-quality acrylic that is shatterproof and very easy to clean. The organizer can separate into two separate pieces, and has over 20 different areas for storage, including drawers with easy to pull handles and different size compartments.
One five-star review came from a verified purchaser who wrote, "The years of wearing makeup – why didn't I buy this sooner. Instead of having your makeup in random makeup and travel bags, this organizer helps keep everything accessible and neat! I like that it is clear so you can see where everything is without digging through it. Additionally, I like that the organizer comes in two parts so you can stack them or use the drawers section separately (for more space).
I used to have an issue with not being able to find lipsticks because they would be in some random bag that I took on a trip months ago, but now I have everything out, easy to find, and ready to go! I highly recommend this product!." With over two hundred customer reviews, 97% of customers have said they liked their makeup organizer, with the average review rating of 4.7 out of 5 stars.
The Cosmopolitan Collection clear makeup organizer is sold exclusively on Amazon.com. The organizer is currently on sale for $29.99, and free shipping is available on all purchases of $49.
About Cosmopolitan Collection: "As an honest and ethical company, Cosmopolitan Collection focuses all energy, resources, and effort to organizing the world in a beautiful way. By creating a single, acrylic makeup organizer, Cosmopolitan Collection works to improve the world by bringing the best quality makeup organizer in the world to market so that all men and women can use and enjoy the product at a reasonable price."
Release ID: 192441