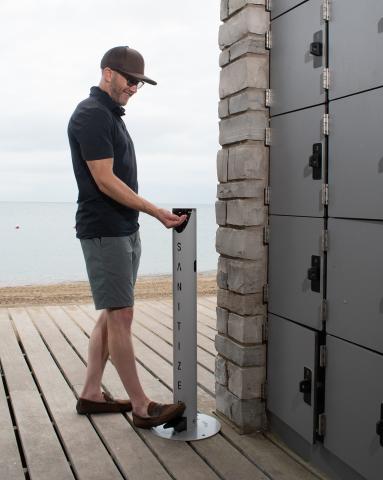 - November 10, 2020 /PressCable/ —
Chicago, IL (November 10, 2020): When Midwest Industrial Metals Owner Steve Cadkin wanted to introduce Sani-Spire, its hands-free, foot-operated hand sanitizer dispenser, he hired full-service digital marketing agency Main Event Digital for the product launch. The result: a six-figure step ahead in sales for the dispensing station.
The Covid-19 pandemic has created a surge in demand for hand hygiene products and infection prevention measures. This market is projected to surpass $3.6 billion over the next six years, according to pharmaphorum.com.
The Sani-Spire tower answered the need for a hands-free sanitizer dispenser that promotes hand hygiene while restoring confidence in re-entering the workplace and public places. It requires no batteries or electricity; it's foot operation eliminates concerns about sharing a dispenser pump.
"The challenge was to distinguish Sani-Spire from the glut of products that flooded the market following the outbreak of the pandemic," said Main Event Digital Founder and CEO Mike Mayer. "Our team of digital marketing experts focused on all aspects of the product launch:
Built a Shopify webstore and created a B2B Portal for sales reps and wholesalers
Introduced Sani-Spire on Amazon & Walmart Marketplaces
Created a social media presence on Facebook, Twitter and Instagram
Produced an animated television commercial
Designed marketing collateral for the sales team
Last month, Sani-Spire generated nearly $100K in sales and is on pace to double that number this month. The product launched in July of 2020.
Steve Cadkin, owner of Midwest Industrial Metals, said "We chose to outsource our marketing to Main Event Digital because of their 25 years of digital marketing experience. Mike Mayer and his team guided us through every step in the process and were laser-focused on customizing a strategy to launch Sani-Spire."
About Main Event Digital
Not content to merely "go the distance," Main Event Digital offers manufacturers, distributors and wholesalers knockout B2B and B2C digital marketing services including logo and website design, web content, e-commerce stores, website build outs, management of paid search, SEO, email blasts, loyalty program implementation, direct mail, establishing affiliate programs and optimizing the consumer website experience. Clients include Prestige Distribution, Midwest Industrial Metals, AMS Staffing, Travers Tools and others. Founder and CEO Mike Mayer is a frequent speaker at industry conferences and a consultant on e-commerce and digital marketing software. He lives in suburban Chicago with his wife and family and enjoys boxing in his spare time.
For more information, please visit https://www.maineventdigital.com/, email mdmayer@maineventdigital.com or call (773) 405-3635.
Release ID: 88985040