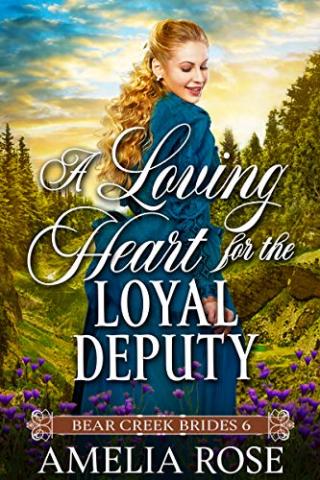 - May 15, 2021 /PressCable/ —
Amelia Rose, the author of Western romance stories including The Rescued Bride's Savior, has released her latest novel, A Loving Heart For The Loyal Deputy.
More information on the release can be found by visiting https://www.amazon.com/Loving-Heart-Loyal-Deputy-Historical-ebook/dp/B08C32SJ27
The new release is a sequel to A Sharp Witted Bride For The Troubled Doctor and An Indian Bride For The Trusty Miner, and is the sixth book in Rose's Bear Creek Bride series. It is a new title in the Western romance genre and is described as a gripping tale of romance and danger. It is currently available as an audiobook, on Kindle, and as a paperback.
Throughout the book the author asks the question if love is enough to conquer all. Set in Montana in 1893, the story begins when a dependable and upstanding deputy sheriff, Deputy Tanner Williams, places an ad in the local newspaper for a mail-order bride.
A young lady named Bethany Duncan who is under the control of her abusive father responds to the ad and decides to travel from Tennessee to Montana to be with the deputy she has fallen in love with. However, when she arrives she discovers a town that is gripped by violence and danger.
The couple's new romance is threatened by the violence in the town, and ghosts from Tanner's past also threaten to destroy their relationship. Both Tanner and Bethany long for a peaceful life, but as the town descends into chaos they begin to question the mail order bride system and wonder if their love for one another is enough to secure a future of happiness.
An Amazon reviewer, who read the new release, says, "This was an excellent book written by Amelia Rose and I enjoyed reading it. It's the kind you can't put down. The story was exciting and the characters were very exciting and heroic. Would recommend this book to everyone. Buy the book and find out what happens."
Amelia Rose is the author of The Bear Creek Bride book series, a collection of Western romance novels. Her latest title is A Loving Heart For The Loyal Deputy.
For more information on Amelia Rose and the release of A Loving Heart For The Loyal Deputy visit https://www.amazon.com/Loving-Heart-Loyal-Deputy-Historical-ebook/dp/B08C32SJ27
Release ID: 89014852