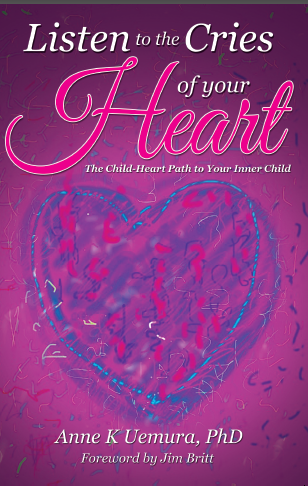 - November 17, 2016 /PressCable/ —
Learn how the inner child cries out when an adult is triggered and upset or when shocking events show up in life and relationships. Full disclosure of the Child-Heart method, an innovative unique method to heal the inner child is found in this recently published book, "Listen to the Cries of Your Heart".
Napa, CA, November 16, 2016. No matter where or when this life started, no matter how wonderful parents are, no one escapes wounding in the first years of life. There is always an interruption—subtle or dramatic, momentary or prolonged—in infant and toddler needs being met. These moments, minutes, or days of separation from comfort and love impact hearts deeply. Adult happiness is undermined by the pain of these early-life events often deeply buried by the young selves.
Yet these wounds continue to affect adults. These cries can be seen in physical symptoms, such as cancer or a heart attack, or emotional distress such as anxiety, panic attacks, and chronic anger. In short, many can see evidence of the inner child if they know how to look.
Jim Britt, named one of top ten success coaches, states: "Everyone should read this book. It will be a powerful, emotional, life-changing experience. In this book, Anne shines a light on the path ahead for each to follow."
"Listen to the Cries of Your Heart" (Hajime Publications, ISBN: 978-0-9976545-2-3,$15.99; ebook 978-0-9976545-0-9, $9.99) provides a self-help guide that enables the reader to move away from upset-ness, struggles and internal turmoil to unlock the peace, wisdom, and joy in the heart. Through her Child-Heart Method, inner-child specialist Anne Uemura, PhD, provides guidance to find and acknowledge the inner child showing up in adult lives, to access the child-selves through negative emotions, limiting beliefs and strategies, and to interact and integrate the broken pieces of young hearts.
Visit childheartmethod.com to request a free sampling of the book.
About the Author:
Anne K Uemura, PhD, retired as a Counseling Psychologist from UC Berkeley which afforded her time to move out of the box to explore extensive training in hypnosis, life coaching (e.g., Chris Howard's neurological repatterning) and energy healing (Barbara Brennan School of Healing, Matrix Energetics, Psych-K). The wide-ranging and cutting-edge training combine with her decades of clinical work and life experience in this gentle new method of doing inner child work. "It's time to attend to the cries, whispers, and messages of your wounded heart, and gather your 'lost' children to become whole."
Anne is also a co-author in the international bestselling The Change Book series, #8. Her previous writing is an ebook, "Invest in You". She's as proud of her two grand-girls and two children as any other achievement.
Anne intends to be guest-blogging as well as provide more content at her blog, lovingyourinnerchild.com. Napa, CA has been her home for the last 24 years.
Review Copies and Media Interviews:
For a review copy of "Listen to the Cries of Your Heart" or an interview with Anne K Uemura, PhD, please contact Anne directly through her blog. When requesting a digital review copy (format: pdf, mobi, or epub), please provide an email address, and for a paperback, include mailing address.
Release ID: 147016