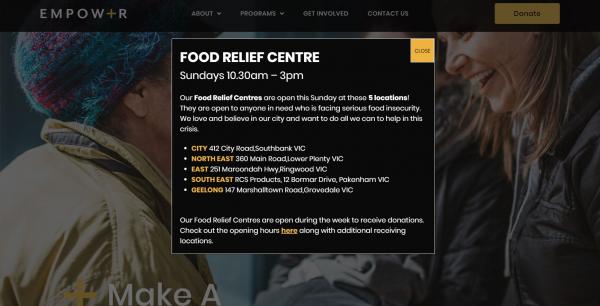 - June 18, 2020 /PressCable/ —
The marketing team at MA Services Group have been putting their marketing budget to better use during the Covid-19 pandemic by donating $10,000 to a food relief centre.
MA Services has long played an important role in the community by helping to keep people, properties, and assets safe. But more recently during the Covid-19 pandemic, their marketing team has allocated the company's marketing budget to better use – donating a large sum of money to a food relief centre.
Founder, Micky Ahuja had this to say " We love to help where we can, particularly in times of great need. It's thanks to the efforts of our marketing team that we've managed to donate a significant sum of money to help people who are struggling to put food on their table."
Besides helping people in need by donating money, MA Services Group plays an important role in the community in many other ways. For example, they are committed to gender equality and are constantly striving to get more women to join their organisation. While guarding is often seen as a male-orientated career, women can bring empathy and understanding that can calm down a situation that might otherwise get out of hand.
MASG always grasps any opportunity to help others in the community. As such, they participate in the Nabenet Integrated Workplace Health Services Program (sponsored by the Federal Government). This is to encourage previously injured workers to re-enter the workforce. Suitable candidates are helped to get back into work by carrying out no more than 20 hours a week until they feel they are capable of completing a full week's schedule.
Supporting diversity in all aspects of their business, MA Services Group also employs 10 people (1.8%) in their Victoria workforce who identify as a Torres Strait Islander or Aborigine. Wherever possible, they strive to employ security guards from an indigenous background.
The concept of the Indigenous/Disadvantaged Backgrounds Recruitment Plan is to provide apprenticeships for persons that fall within these criteria. This, in turn, is supported by a strategic partnership with Indigenous Prospects – itself an indigenous owned and run training and recruitment agency.
MA Services Group's devotion to the importance of diversity is applied through all areas of their business and includes skills enhancement, talent development, recruitment, board appointments, flexible working arrangements, retention of employees, and more besides.
MASG is dedicated to helping in whatever way they can in the community, even re-allocating their marketing budget to a better cause.
Release ID: 88964073