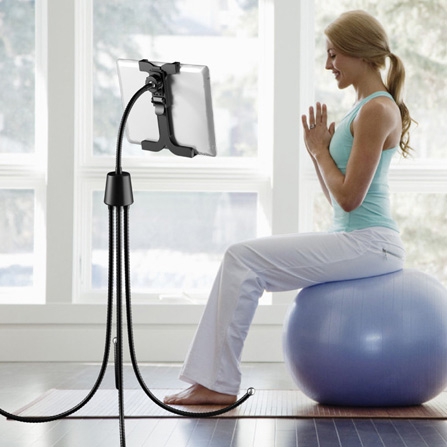 - January 30, 2016 /PressCable/ —
Yoga is one of the fastest-growing activities in the world. Recent reports show that over 20 million people practice yoga in the United States alone. And sales of tablets have been increasing every year since the introduction of the iPad in 2010. Not surprisingly, yoga practitioners are taking to their tablets to avoid crowded yoga classes, and to squeeze a yoga session into their packed schedules.
There are plenty of products available for users to make the most of a tablet yoga session. One of the newest products created in order to capitalize on this trend is the FourFlexx tablet holder, a flexible iPad stand that its manufacturer claims will offer tablet owners a hands-free viewing experience.
The FourFlexx universal tablet stand promises users the ability to transform any room in the house into a yoga studio. Home yoga practitioners can adjust the bendable arms and manipulate the device to securely hold their tablet at eye level while they practice their yoga positions.
LXORY, Ltd., a tech accessories manufacturer, has designed an adjustable tablet stand that they believe is versatile and portable enough to be be used almost anywhere. In addition to exercise programs, LXORY hopes that the FourFlexx will be used to help in the kitchen or to optimize the experience of watching streaming videos. Users can also clamp the FourFlexx onto a couch arm, or even onto the back of a car seat.
The FourFlexx is intended to hold just about any tablet sized between seven and thirteen inches (including iPad, iPad Mini, Acer Iconia, Samsung Galaxy, Google Nexus 7, Kindle, Kindle Fire, Sony eReader, Nook, Kobo, Microsoft Surface Pro and more).
John Dewan, Sales Manager of LXORY Ltd., sees great potential in the fitness industry for the FourFlexx iPad holder.
Says Dewan, "We love that users find new applications for the FourFlexx universal tablet stand every day. Beginners love the product because they can practice yoga at home and avoid the embarrassment that sometimes comes when they are just starting out in a public class setting."
On the software side, the most popular yoga app is currently Yoga Studio, which can be used on any iOS device. It is made for both beginning and expert yoga practitioners. Yoga Studio offers 65 different ready-made yoga classes, as well as more than 280 poses, all with audio instructions and video demonstrations. Users can also create custom yoga classes, importing their favorite poses in whatever order they prefer.
As yoga continues to grow as an important part of a healthy lifestyle, so too will the demand for products and services to help users optimize their yoga experience.
The FourFlexx iPad stand is available now through Amazon. For more information on the FourFlexx, visit the LXORY website at http://www.lxory.com/fourflexx-ipad-stand/.
Release ID: 101530