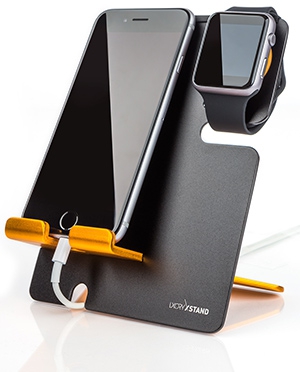 - April 4, 2016 /PressCable/ —
Responding to complaints on how easily the Apple Watch and iPhone tend to get scratched, LXORY offers its XStand to ensure minimal damage while charging these devices or placing them on desks or nightstands. The newest in a line of luxury mobile accessories, the 2-in-1 Apple Watch and iPhone dock promises to reduce the clutter created by charging cords and offers to flaunt the devices stylishly and safely thanks to its padded rubber strips.
LXORY's move follows a series of posts which show that the expensive devices, which cost over $1,300 combined, are highly susceptible to scratches. According to the post 'Yeah, the Apple Watch Scratches—All Stainless Steel Watches Do" on Wired, the stainless steel used for creating the Apple Watch only ensures its resistance to corrosion, allowing it to remain shiny for a long time. However, the form of stainless steel used, 316L, is soft enough to scratch.
Similarly, iPhone 6 screens are susceptible to scratches according to the GottaBeMobile post 'iPhone 6s Screen Scratches Appearing on Early Models'. New owners took to YouTube and reddit to vent their frustration at how easily their devices scratched due to pressure from a sharp object at a specific angle. Even tiny rock and sand particles making their way to users' pockets can scratch the strong glass of the screen fairly easily.
After sharing these posts and other findings by the brand's research team, John Dewan explained how LXORY's latest product can help with this issue. "Dropping the devices onto a hard surface is one of the main cause of these scratches" he said. "Our Apple Watch and iPhone dock can help prevent this issue by securing both devices as they charge. We have integrated cord management to prevent users from fumbling around white cords and eventually dropping their devices. The XStand is also QI-charger compatible and can easily accommodate bulky covers, further ensuring protecting the devices from damage."
Dewan also mentioned that the 2-in-1 dock ensures the safety of the devices when not in use. Apple Watch and iPhone owners can place their expensive devices on the padded strips when they are not on their wrists or in their pockets respectively. As a result, they do not have to worry about accidentally dropping them or getting them scratched by debris.
To further add value for money, LXORY offers its travel-friendly and easy-to-assemble accessory with a hassle free guarantee. Buyers who would like to return the dock can easily do so using the full 30-day, 100% no-risk money back guarantee the brand offers.
The LXORY Apple Watch and iPhone stand in now available on Amazon.
About LXORY
Despite being one of the newest entrants to the luxury mobile accessories industry, LXORY has quickly gained a reputation for being an innovator. Complementing its range of products are the brand's quality customer service, quick shipping and delivery, as well as a 30-day, 100% no-risk money-back guarantee. For more information on LXORY and its sustainable solutions, please visit www.lxory.com.
Release ID: 108978