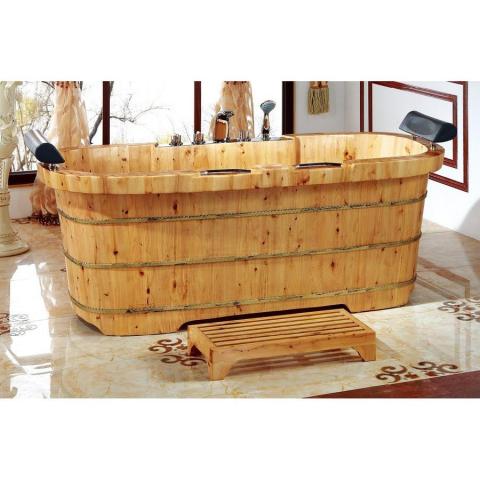 - January 13, 2021 /PressCable/ —
Luxlley has launched its updated luxury freestanding bathtubs in New York, New York. The company's bathtubs offer easy installation and greater flexibility for style and spacing in bathrooms.
More information is available at https://luxlley.com/collections/all-bathroom-tubs?page=1.
The newly launched updated free standing luxury bathtubs offer owners a number of advantages. If space is tight in a bathroom, freestanding bathtubs allow for optimal positioning of the bathtub to use space most effectively.
Aesthetically, freestanding bathtubs also provide several benefits. Freestanding bathtubs come in a variety of looks and styles that can be matched perfectly with any bathroom. They also embody outside of the box thinking and provide a unique touch to any bathroom and house. Additionally, freestanding bathtubs offer a vintage look that brings back nostalgia for the old days.
Luxlley offers an extensive selection of freestanding wooden bathtubs. One popular choice is the Alfi 65" two-person cedar wooden bathtub. The bathtub includes fixtures and headrests and costs $4,100. This bathtub makes an excellent addition to a winter home or to a log cabin. The bathtub offers a unique mixture of old fashioned simplicity combined with modern luxury. The bathtub includes a wooden hanging basket to easily store bathing lotions and soaps.
Another popular pick is the Alfi 59" cedar wood bathtub. The bathtub includes a custom made removable wooden seat that offers added comfort. This freestanding bathtub meshes well in homes with an earthy look. The bathtub does not require any special cleaning products, but harsh chemicals must never be applied to the wood. The bathtub is available starting at $2,200.
A top luxury choice is the Whitehaus Collection Bathhaus copper freestanding handmade double ended bathtub. The tub features a hammered exterior and a lightly hammered interior and has no overflow. The bathtub is made with 16 gauge, 97.5% pure copper ensuring a luxury bathtub. The bathtub has a long lifespan thanks to copper's inherent ageing process and its natural antibacterial effect. Full body immersion is also possible in the bathtub's spacious interior.
For more information about Luxlley visit the website listed above or call 1-855-589-5539 or visit www.luxlley.com
Release ID: 88993197