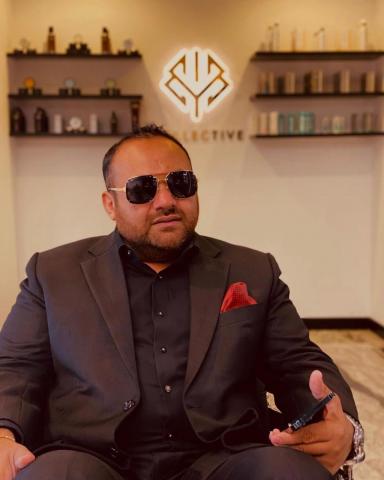 - March 7, 2021 /PressCable/ —
YBB Collective Salon, a luxury barbershop in Dubai in the spotlight by providing the barbershop space as a business hub for networking for entrepreneurs and business owners.
While millions of small-business owners, entrepreneurs across the globe are facing a similar challenge as the pandemic slows down the economy and restricts physical gathering, a luxury barbershop in Dubai is growing business by offering the barbershop space as an exclusive business hub for their customers.
Keeping beard trimmed fresh is an important factor for healthy and successful looking and thus, beard men in business visit barbershop a few times or more in a month. The same customers meet at the barbershop twice, three times coincidentally and it naturally leads them friendly conversation.
Visit YBB Collective Salon in Dubai
Mr. Iyad Hayel, the Owner of YBB Collective Salon says, "While interacting with our customers visiting my barbershop, I could feel that they are openly enjoying my space where "truly human interaction" is available especially in this increasingly tech-driven world and many of them are naturally sharing their story about their business and exchanging their advice gained from their experiences as a business owner".
He continued, "I saw that many entrepreneurs are struggling to expand their business network in their communities. I instinctively thought why don't I offer my barbershop as a space to connect businesses and not only just offering regular barbershop services".
Iyad Hayel is a serious entrepreneur with multiple businesses in his resume and has decided to start this exclusive men's barbershop to help connect high-level entrepreneurs. The concept has proven to be truly effective since men on a regular basis need to get their facial hair groomed.
The story about his men's barbershop has been spread gradually between business owners and entrepreneurs in Dubai by word of mouth. Luxury cars parked outside the men's barbershop show that the level of the customers are high. With plans on expanding to multiple areas in Dubai in the near future, Iyad feels that spaces like his exclusive men's salon are in need and should be in many key locations.
The barbers at YBB Collective Salon help to introduce their customers visiting the salon at the same timing and provide an environment to meet others and develop business contacts. They keep customers' profile including what business they are in and introduce them to each other to ignite fruitful conversation. Many of the customers spend a longer time at the spacious and luxuriously branded waiting area with relaxing sophisticated surroundings after getting a haircut, beard trimming, or massage to extend their vibrant conversation and enjoy the opportunity to establish trust and share values and business ideas with a complementary drink.
IYBB Collective Salon offers various services including haircut, beard trimming, and color, massage, facial treatment. Interested business owners may find more information about the barbershop by visiting the website at: YBB Collective Salon Dubai
About YBB Collective Salon:
More than just a brand, YBB provide a lifestyle that balances luxury with ultimate comfort and relaxation. Our expert barbers pride themselves on quality over quantity, with an added personal touch. Giving you the collective experience and making us one of the most sought out barbershops in Dubai. Explore our website and get to know which of our artists best suits your style. Whether it be traditional and sleek or edgy and current, collective has something for you. Join us for a bespoke haircut, close hot shave or for an all-out pamper with a relaxing manicure and pedicure whilst enjoying a complimentary drink, vibrant conversation, and even a game of FIFA.
Address: Unit 7, indigo tower, Cluster D, JLT, Dubai, UAE
Phone: +971 477 010 49
E-mail: admin@ybbcollective.com
Release ID: 89000009