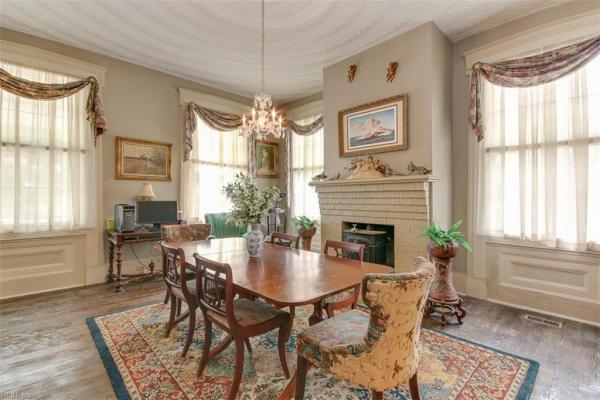 - May 21, 2018 /PressCable/ —
HICKORY CHESAPEAKE, Va. – A Virginia Beach Real Estate Agent just listed a luxurious plantation house built during the Civil War that was carved completely by hand. It has all its original wood work, windows, pine flooring and is 1 mile from the 29th best school district in the entire state of Virginia.
The house is on 2 acres of land with lots of trees, a wooden fence and a huge 40,000-gallon in-ground pool. It is perfect for someone who likes to have their space, enjoy the piece a quiet of country living and still have the convenience of working in the city.
"I have been working as a Real Estate Agent in the Hampton Roads area for over 3 years, looked at over 1,000 houses' and have never come across one with so much beauty and history infused into it. You have to see it in person to see what I mean," said Austin Frangoules with Anchor Realty Group.
With all the modern houses being built today it's difficult, if not impossible, to find a house that is truly unique from everyone else's. Not only that but while working in a big city it's just as hard to find a home for sale in the country with a short commute to work in the city.
One interesting thing most people might not understand is the difference between a plantation house and a farm house. "A plantation house is a house that was built during the time when people owned slaves. It is typically a very fancy and spacious style house because the people that lived there were very wealthy. They had servants that worked and took care of the land and any needed tasks in the house" said Tracy the current owner.
A farm house is typically lived in by the people that worked the land while living in the house. So, it is typically not very fancy, has small rooms and was built to be very cost effective because they were just trying to get by.
Because this is a plantation house it has a grand formal style with 12-foot ceilings throughout, 8-foot windows and a 28-foot foyer. The people that lived in the house were very wealthy and you can see that in the design. Everything was built to be spacious and luxurious instead of cost efficient and truly makes this house breathtaking and unique.
"All the molding and woodwork was carved completely by hand because during that time they didn't have saw mills to use. In addition, iron was a rarity back then, so they didn't even have nails and had to use wooden pegs instead. The result is an extremely sturdy home that has withstood every major storm since it was built. They don't make them nearly this strong anymore." Said Tracy.
You will never get cold in this house during the winter because it has 4 fireplaces scattered throughout the house. One in the master bedroom, guest bedroom, living room and dining room. "They used to have one in every room but lost 2 when they moved the house 100 yards in the 1980's. They used the bricks from the other 2 to pave the current pathways" said Tracy.
"When I walked inside it felt like I was in the home where someone of royalty lived. I have seen houses like this in the movies but never in person before," said Austin.
The current owner built a guest house right next to it where someone could have their older children live, in-laws live, or It could even be used as a rental for additional source of income. It has a full kitchen, bathroom and bedroom so it is fully independent.
Since the home has been around since the 1850's it has some very interesting history that comes with it. There was actually a 6-part news story covered in the Cheesecake Clipper talking about it 20 years ago.
One of the stories was a love story. "In the 1860's during the Civil War a man named Luther Creaths Ives bought this house for the love of his life as a wedding present. They ended up having many children and living here until they passed on" said Tracy.
Not only does the house feel like it is deep in the country, but it is also only 5 minutes from Edinburgh Shopping Center and Battlefield Golf Club. Additionally, it is only a 25-minute commute to the Naval Ship Yard and it is so close to Hickory high school that the kids could walk there.
The Hickory High School District "goes head to head with the overcrowded Great Bridge school district every year. They fight for the number 1 public school district in Chesapeake every year. My kids went to Hickory Elementary, Hickory Middle and Hickory High and my son got into the first college he wanted to go to at the University of North Carolina Wilmington (UNCW)," said Tracy.
This house could easily be turned into a "Bed and Breakfast" to make some additional income or it could be a unique and luxurious home to live in that would truly impress any one that ever visits. It gives the comfort of living in the country with the convenience of working in the city and has one of the best school districts in the state.
The house information is:
Listing Price: $459,900
Address: 2410 Centerville Tpke S, Chesapeake, VA 23322
Information: 5 beds – 3 baths – 4,300 sqft
You can take a video walk-through of this luxurious and historic Hickory Chesapeake home with land just listed for sale here:
https://www.zillow.com/homedetails/2410-Centerville-Tpke-S-Chesapeake-VA-23322/61421406_zpid/
You can learn more about this house and contact Austin Frangoules with Anchor Realty Group by going to this link here:
https://www.austinjamesteam.com/homes/2410-Centerville-Tpke-S/Chesapeake/VA/23322/83676932/
Release ID: 347817