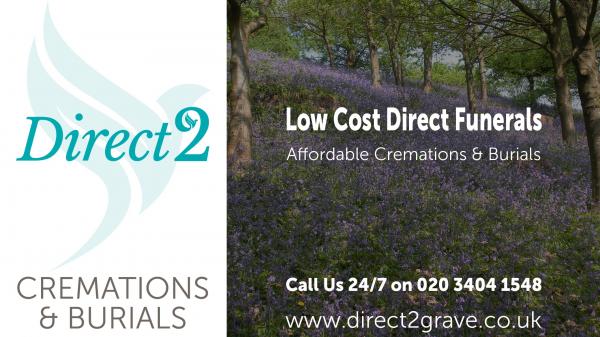 - May 24, 2021 /PressCable/ —
Direct2Grave Cremations & Burials announced the expansion of their cheap funeral packages allowing more people to save money. From Dartford to Bromley, Orpington to Croydon and all surrounding areas, customers can have their loved ones looked after with dignity.
For more information, please visit : https://www.direct2grave.co.uk
Back in 2019, after hearing about several concerns with regards to the funeral industry, the UK Government released its "Funerals Market Study". Four specific concerns were raised:
1. High funeral prices, which affects more of those who are on low incomes
2. Above inflation price rises (across burial, cremation and funeral director fees)
3. Major cost differences between cremation and burial fees, as well as similarly located funeral directors.
4. A lack of transparency of funeral prices.
Over the last few years, with funeral costs rising, many people are seeking less expensive alternatives to the traditional funeral. With this report still fresh in people's mind, at the beginning of 2020, Covid19 hit and a global pandemic started. Everyone has been affected in some way or another, especially those on low incomes.
With restrictions in place for funerals across the UK, Direct2Grave Cremations & Burials has seen a need for low-cost funeral services in south London. Allowing an affordable way for people to provide a decent send-off for their loved ones.
With the four main concerns highlighted, Direct2Grave have gone about in creating affordable, cheap funerals that offer a high-quality service and treat the deceased with the utmost respect.
How have they achieved this? Quite simply by removing the unwanted aspects of a funeral service, keeping only the important parts of a cremation and burial, as well as reducing the overheads of traditional funeral directors. With the funeral costs kept to a minimum, Direct2Grave can pass on the savings, resulting in simple cremations and direct burials at a budge friendly price that most people can afford.
What is a direct cremation? A direct cremation, sometimes referred to as a simple cremation, pure cremation, a cremation without a funeral service, is when the deceased is taken from the hospital, hospice, or home to Direct2Grave's funeral home where the body is prepared for cremation or burial. Once prepared, it is then sent direct to the crematorium or cemetery without a funeral service.
How much is a simple cremation of burial? Direct or simple cremations from Direct2Grave start from £999 and a direct burial starts from £1975.
Unlike many other funeral directors that offer a similar service, Direct2Grave do not limit customers to funerals without services. They can allow family members options to attend the service.
For more information about Direct2Grave Cremations & Burials low-cost funeral services visit their website https://www.direct2grave.co.uk/
Release ID: 89006729