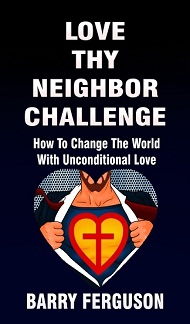 - February 18, 2017 /PressCable/ —
America has not been this divided since the Civil War and it has erupted in violence across all parts of the country with devastating effects. Christian Author Barry Ferguson, has come up with a unique approach to combat this problem in his new book entitled, "Love Thy Neighbor Challenge" which is gaining widespread appeal among people of all faiths and political beliefs.
The book challenges people to step far beyond their own personal lives and start showing unconditional love to not only their neighbors across the street but to everyone they meet and then document their acts of kindness both on Barry's website, BarryFergusonAuthor.com, as well as on Facebook, Twitter, Instagram, LinkedIn and the rest of the social media sites. By doing it this way, he hopes to raise awareness for the lack of unconditional love which has become a plague on society and to show the rest of the world that loving others is still important to Americans of all race, creed and color.
Barry says, "The togetherness we felt as a nation way back on 9-11-2001 seems to be just a distant memory nowadays. The love and care that made our nation great has been reduced to an afterthought. Money, drugs, sex and selfishness as well as vulgarness and a lack of respect for others plays out in the media like a bad movie. I wanted to do something special that would bring people together in a loving sort of way where those things this nation once cherished would be held in high regard once again."
"Love Thy Neighbor Challenge" cuts to the heart of what makes us all human… the simple act of loving others unconditionally. Barry goes on to say, "Most people talk about making a difference in the world but never do anything about it. I wanted to put my words into action and this book is my way of creating a movement that brings people together. Hopefully, people will take the time to put the strategies in motion and bring us back to a nation built on both love and care."
Readers who wish to take the challenge head on can purchase "Love Thy Neighbor Challenge" at bookstores everywhere, online at Amazon.com, Barnes and Noble as well as the author's website at https://barryfergusonauthor.com/books/love-thy-neighbor-challenge.
For additional information, media inquiries, or to have Barry speak at your next function please contact OuttaSite Publishing at 732-533-3813
Release ID: 171054