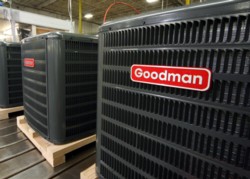 - May 20, 2017 /PressCable/ —
Louisville heating and air conditioning company D&M Service Company Inc announced the launch of its professional HVAC maintenance services. The company also offers emergency air conditioner repairs within a 24-hour window.
More information about D&M Service Company Inc is available at http://louisvillehvacdm.com
The rising global focus on green technologies and the increasing adoption of new energy-efficient systems is a prime influence in the use of HVAC geothermal heat pumps and Variable-Frequency Drives (VFDs) in HVAC systems. Today, energy-efficient HVAC systems are the mandated standard for residential, commercial, and industrial constructions. D&M Service Company Inc specializes in the provision of installation, maintenance and repair services for new and existing HVAC systems.
The D&M Service Company maintenance program is built on a philosophy of preventive maintenance through a regimen of regular cleaning, servicing, and troubleshooting. Preventive maintenance before and after rain, snow, and other weather conditions that stress an HVAC system. The benefits of the firm's services include greater efficiency, lowered energy costs, and the avoidance of expensive large-scale repairs. Maintenance also ensures improved air quality and safety from allergens and pathogens, factors that are critical to residences, offices, and healthcare facilities.
D&M Service Company Inc offers a suite of comprehensive warranties on its services including full manufacturer's warranties, a 1-year labor warranty and extended warranties on new installations. The company also offers 30-day labor warranties on servicing and repair. All services are provided with a free estimate and financing options.
According to a spokesperson for D&M Service Company Inc, "Our Louisville KY professional HVAC care and maintenance services provides customers with the latest in environmentally responsible, sustainable, and high-performance HVAC systems.
D&M Service Company is located on Ballardsville Road in Louisville and has a wide service coverage area that includes South Louisville, East Louisville, Fern Creek, and Oldham County. The company also operates in Clarksville, Jeffersonville, and New Albany. More information is available at the URL above.
Release ID: 201564