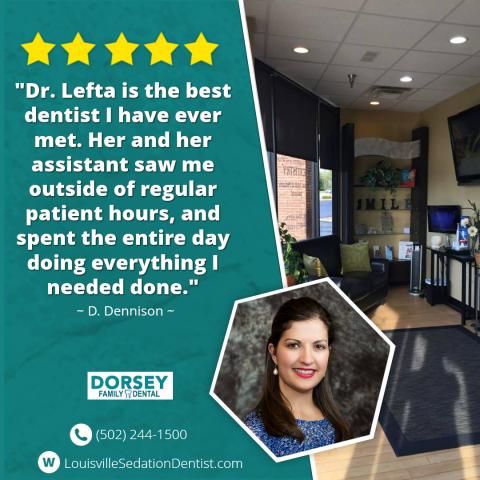 - March 26, 2018 /PressCable/ —
In the competitive world of dentistry, it can take a few years to firmly establish a strong reputation and client base. Quality care, inviting facilities, caring and professional staff, and many other variables can all impact just how quickly a dental practice is able to thrive. Smart practitioners also realize that serving a specialized and unique (dental) need can accelerate growth and success. Cosmetic, Pediatric, and Sedation Dentistry are good examples of such niche markets. These specific fields within dentistry require even further professional training, certifications, and even licensing in some cases. With new and specialized treatments, however, come opportunities to serve more patients.
Under the leadership of Dr Tina Lefta DMD, Dorsey Family Dental is staying on the cutting edge with innovative and minimally invasive procedures. In addition to serving Louisville with all three of the above mentioned services, Dr Lefta has become one of just a few offices in the region to provide the Chao Pinhole Surgical Technique (PST). This advanced treatment, which is also known as "pinhole gum rejuvenation" and "lunchtime gum lift," is a non-invasive solution to the problem of Gum Recession.
Gum recession, which can begin at different ages for different people, is a very common condition in the United States. Due to a variety of reasons and factors, the gum line often begins to become loose or recede from its original position on the teeth. This recession can lead to higher susceptibility to infection, loosening of the teeth, and general tooth decay. While the problems that result from gum recession are clear, the procedural solutions for a long time have been unappealing to many patients. Doctors would have to tissue from the roof of the mouth or use tissue from a donor, then use it to rebuild the gum line. It is surgically invasive and requires a fair deal of healing time.
With this Pinhole Surgical Technique, Dr Lefta is able to treat the condition without a scalpel or suture. Patients can expect comparable results with far less discomfort and recovery time. Created by Dr John Chao, the PST treatment repairs the receding gum line without having to graph tissue from anywhere else. When asked about her experience so far with this procedure, Dr Lefta said "We have been seeing great outcomes. Patients are happy with the treatment, and they are referring others to our practice as a result."
Her patients seem to agree, as Dorsey Family Dental has numerous 5-Star testimonials across different review sites.
Release ID: 319824