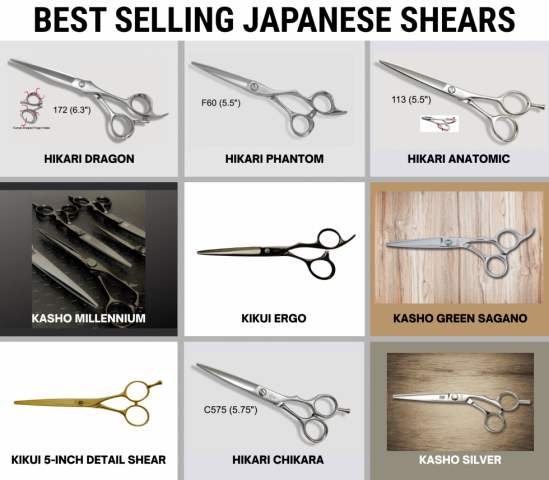 - November 26, 2020 /PressCable/ —
LA Shear, the Los Angeles-based distributor for high quality hair designer tools, has launched a new guide to the best Japanese shears for hair specialists. They are an authorized dealer for Hikari, the industry standard for over 40 years.
More information can be found at: https://lashear.com/top-10-best-japanese-shears-in-2020
The newly launched guide aims to provide hair stylists with in-depth information and guidance on some of the best options available for their work.
As authorized dealers for Hikari, Kasho, and Kikui Shears, the team has wide-ranging experience with the most reputable Japanese scissors in the beauty industry. With their newly launched guide, they aim to meet demand for expert insight into the best equipment available on the market.
Readers will discover the 10 best Japanese hairdressing scissor brands and how they can be used for optimal results. Detailed information is given on each individual shear, helping hair stylists to make a more informed decision about their equipment choice.
The options covered in the newly launched guide include the Hikari Dry Cut Shears Level 4, Hikari Cosmos Series Level 3, and Kikui 6 Inch Ergo. Alongside this, readers can learn more about the Kasho Millenium Offset, Kikui Slide Leaf Blade Dry Cut, and Kasho Green/Sagano Series.
Finally, the guide highlights the benefits of the Hikari Chikara range, Kikui 5 Inch Straight Detail Shear, Kasho Silver 6 Inch and Kikui Swiven Thumb.
The newly launched guide reveals that the number one choice for hairdressers is a three-way tie between a number of Hikari dry-cut options. The choice is an individual one that each hair specialist must make.
LA Shear explains that the three Hikari Dry Cut Shears they sell the most are the Dragon, the Phoenix and the Spark. These are all available through the LA Shear site.
A spokesperson for the company states: "Hikari's Dry Cutting Shears are a unique blend of Japanese steel and alloys, made of a proprietary blend of molybedenum, cobalt and vanadium (Hikari steel level 4). They feature a unique powerful blade design for dry cutting."
Full details of the newly launched guide can be found on the URL above.
Release ID: 88987382