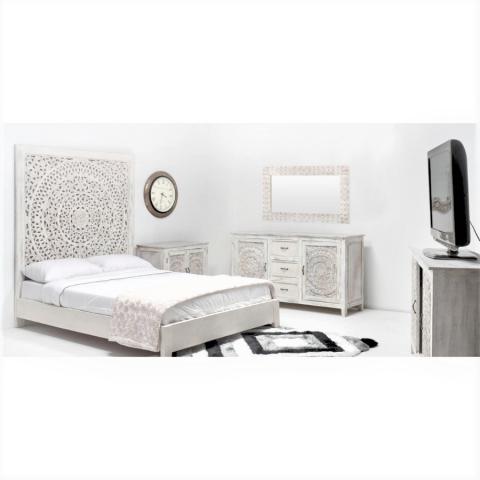 - December 30, 2020 /PressCable/ —
LOOMLAN has launch a new bedroom collection focused around a vintage, boho look with mandala lotus carved design. The line includes a variety of furniture pieces such as white bohemian lotus carved bed frame, dresser, nightstand and a wall mirror.
Every piece of furniture is uniquely made, carefully hand carved creating a wooden lace to complement the vintage look. See full bohemian carved mandala bedroom line here: Full LOOMLAN Mandala Boho Line. New and reclaimed tropical mango wood is used for these furnishings and is perfect material for this type of work. Due to durability of the mango wood, the bohemian carved bed frame can be used not only in individual setting, but also in bigger dwellings such as spa resorts and hotels.
The Bohemian hand carved laced lotus flower carefully carved into the doors is something you cannot find very often. Beautiful, intricate artwork combines with heirloom-quality construction, built to last a lifetime. The exquisite Lotus bed is crafted from 100% sustainable mango wood with an eco-friendly 7 step catalyzed finish process. The hand-carved headboard has impressive carvings of the lotus flower plant and is a delightful addition to any bedroom.
Sanctuary worthy this spiritual retreat bed in either king or queen is ideal virtually for any interior style, starting from Coastal Beach House to Boho Chic, Farmhouse to Eclectic. Every piece is handcrafted, this means buyers have the chance to own a very unique piece of furniture as two pieces are never the same.
The uniqueness of this bedroom is appealing to most designers and homeowners. Since each item is hand-carved, there virtually no identical pieces as some design variations are acceptable and, in some cases, desired.
LOOMLAN believes buyers not only obtain a furniture to sleep on, they also directly and indirectly invest in their mental well-being, a place perfect to meditate, dream and rejuvenate. LOOMLAN spokesperson said: "The white carved bedroom collection was specially created for people who believe that art can be found in little things and sees the purchase as an investment in their personal sanctuary rather than an expense."
Explore more of this exclusive, and stunning line of furniture heirloom quality constructions, built to last for a lifetime. Visit www.loomlan.com for inspiring boho décor ideas.
Release ID: 88991628