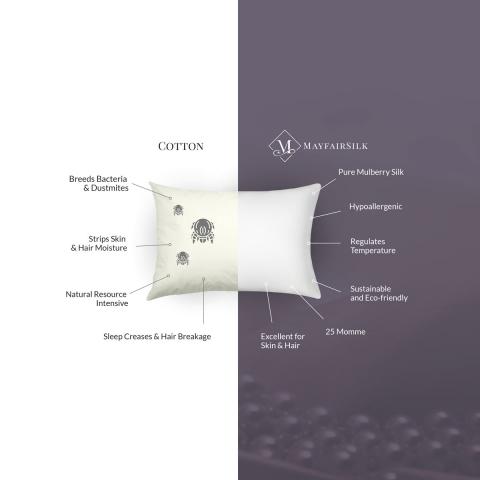 - January 30, 2022 /PressCable/ —
MyfairSilk's latest additions offer the most sustainable and environmentally friendly choice for silk pillowcases and silk bedding. Silk has the lowest carbon footprint of all fabrics and, if cared for correctly, has one of the longest lifespans.
More information is available at
https://mayfairsilk.com/collections/pure-mulberry-silk-pillowcases
As Londoners and people throughout the United Kingdom increasingly become aware of the environmental impact of their consumer choices, MayfairSilk now offers the highest standard of mulberry silk products.
According to the World Wide Fund for Nature (WWF), more than 20,000 litres of water are required to produce just one kilogram of cotton, which roughly equals one T-shirt and a pair of jeans – for less than a quilt cover or sheet set. In comparison, silk requires just 66.66 litres of water to produce 5.5 kg of the end product.
Moreover, silk manufacturing produces 814 times less carbon than cotton, given the carbon sequestering properties of the mulberry trees from which it derives.
Exposing these stark differences, MayfairSilk showcases the environmental benefits of changing from cotton to silk bedding.
The brand also believes there are a number of other benefits to making this transition. Unlike water-thirsty cotton, silk does not absorb moisture from a person's skin or hair. By helping to retain this moisture overnight, silk has been shown to reduce signs of stress and ageing. Likewise, silk pillowcases help to prevent hair breakage and split ends, in the long term leading to longer and more lustrous hair.
From a health perspective, silk is hypoallergenic and antibacterial, unlike cotton, which often attracts dust mites. Plus, MayfairSilk uses only the finest grade 6A long fibre mulberry silk, which is Certified Standard 100 by Oeko-Tex®. This means that their products are completely free from all toxic dyes and chemicals.
MayfairSilk has been producing the highest quality silks that are both sustainable, healthy and beautiful. As one of the strongest natural fibres, they believe that with the correct care, their silk products will last for many, many years to come.
They retail a large range of luxury silk pillowcases, cushion covers, sheets and duvet sets, all of which are made by a traditional artisan-crafted production process.
Their mulberry silk pillowcases come in UK Standard and US Queen sizes. Handcrafted from the finest 22 to 25 momme silk, the bedding is available in a wide range of designs including Hummingbird, Brilliant White, Midnight Blue, and Charcoal.
A spokesperson for the company said, "Start your journey into the world of silk with us and you will uncover the pleasure in the simplest of moments. Your first step might be a set of pillowcases or a sleep mask. As you feel it against your skin and the difference it makes, you might look into a fitted sheet, flat sheet, or duvet to complete the set. Our silk is a natural product that is gentle on you and the environment."
Interested parties can find out more at
https://mayfairsilk.com/
Release ID: 89062204