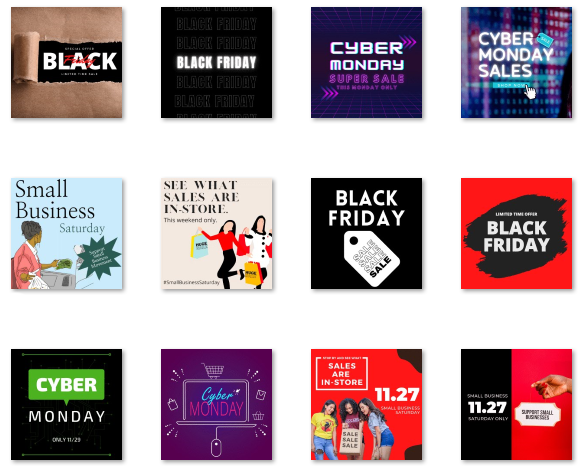 - November 18, 2021 /PressCable/ —
Acumen Connections, Wichita's local card merchant services team, supports small and local businesses. The team offers payment processing and marketing solutions. They also provide free resources built just for business leaders and their teams. Today, Acumen Connections is unveiling their newest project. They're sharing free small business resources for Black Friday weekend.
To be exact, they're offering 23 designs, and 14 customizable templates. These designs can be used for free. There are designs for social media, email, window posters, printed flyers, and more.
Best of all, editing templates is simple. All small businesses need is a free Canva account and an upcoming holiday sale.
The shopping season is soon to be in full gear. Businesses of all types are preparing for the weekend of savings later this November. Over the years, Black Friday has exploded. It's expanded from a one-night-only sale, into an entire weekend event. It's one of the biggest sales weekends of the entire year.
The massive shopping event includes the following days:
Black Friday this year is on November 26. This is when consumers can find the best sales. Shoppers line up the night before to access the best savings starting at midnight.
Small Business Saturday this year is on November 27. This day is to encourage consumers to shop local. It's a day to support and promote neighborhood shops, restaurants, and other businesses.
Cyber Monday is the following Monday, on November 29. It allows e-commerce stores to participate in the sales weekend as well. Over time, more and more stores have picked up an online presence. In-person sales have expanded online as well.
Fall 2020 COVID shopping trends had many consumers turn to online shopping. This blurred the three days into one massive shopping weekend event.
Acumen Connections' Digital Marketing Manager, Renee McBride, explains that "Wichita is unique. We have over half a million people. Diverse lives and skills mean unique businesses… mom-and-pop stores offering something special. Our community has small-town pride and loves to celebrate local business." The citizens of Wichita have an entrepreneurial spirit. Thousands of small businesses have started in the Wichita and surrounding area.
"Shopping local is essential to our community," explains Sean High, the Merchant Services Account Manager, "The city of Wichita has many large and small businesses. They create new jobs each year. When consumers shop local, it helps the community. We want to give businesses that extra assistance to find success."
Many Wichita businesses match the parameters of all three shopping holidays. This is especially the case for businesses with an online store. They're able to take full advantage of the shopping holidays. That requires preparing for the shopping weekend though.
The local card merchant services team recognizes that business owners are busy. "Entrepreneurs are often wearing several hats for their business. Their time is valuable. They don't have the bandwidth to do everything, such as making designs," McBride explains, "So, Acumen Connections is providing these resources to them for free." She sees the designs as just one more way to help support local businesses.
The sales designs and resources are free tools. The payment processor encourages local businesses to use the designs to promote business, share sales, and grow client base.
With access to 37 free designs for the sales weekend, merchants have options. There's not a one-size-fits-all approach to the free designs and templates. The diverse designs allow entrepreneurs to promote their business how they want. Wichita businesses are unique. They should have the opportunity to market their business uniquely too.
When it comes to small business, owners aren't estranged billionaires. Instead, they're local friends and neighbors.
"It's essential we come together to assist and support those around us. The holiday season is the perfect opportunity to do that." says McBride.
Acumen Connections has been providing card merchant services for over 20 years. During that time, they've helped support local businesses in more ways than one. Previous projects have had an emphasis on the value of buying local. During lockdown, the team shared info on how to support small businesses from afar. In the last year, they've started the Buy Local Wichita project. It helps local shoppers and businesses share the best deals and discounts in their community.
Acumen Connections has been in business, providing card merchant services, for about 20 years. In that time, the team has learned a lot about what helps a small business succeed. The Wichita-local team wants to help other businesses in the community grow.
Release ID: 89053309