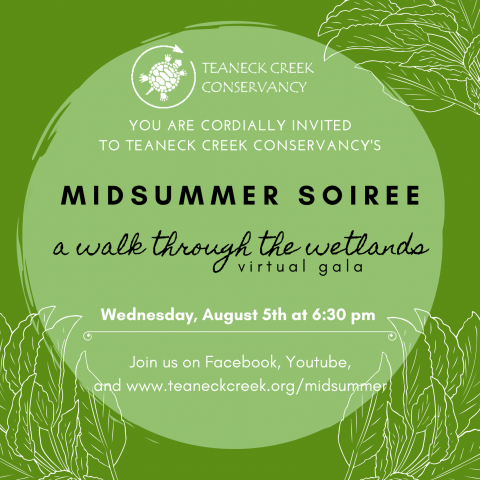 - July 25, 2020 /NewsNetwork/ —
Teaneck, NJ July 25, 2020
Support Teaneck Creek Conservancy's mission and environmental work by attending their virtual fund-raising event; a Midsummer Soiree on Wednesday, August 5, 2020 at 6:30 pm.
Teaneck Creek Conservancy invites you to join them virtually on August 5, 2020 at 6:30 pm for a celebration of the history, ecology and art of Teaneck Creek park, while reflecting upon the legacy of their founder, Perry Rosenstein, who was sadly lost to the pandemic this year.
According to Executive Director, Alexa Fantacone, "With this global health crisis impacting our entire country, we have opted to switch gears from a traditional in-person gala, to a virtual soiree to engage our community without putting anyone at risk."
The event, known as the Midsummer Soiree: A Walk Through the Wetlands virtual gala, will feature an exciting musical performance from Englewinds award winning eco-music ensemble, a captivating performance from the Nikki Manx Dance Project, and an inspiring acoustic performance by Steve Kelman.
The Soiree will also honor the Teaneck Volunteer Ambulance Corps for their selfless service to the residents of Teaneck during the pandemic; and the New Jersey Environmental Justice Alliance for their work organizing, educating and training organizations to mitigate environmental injustice in low income communities and communities of color.
Teaneck Creek invites the community to join them for this event, and make a donation to support their environmental education programing, eco-art learning and habitat restoration work. "I'm looking forward to walking through the wetlands with you on August 5th!" Fantacone added. The event will premiere on Teaneck Creek's Facebook page, Youtube and at http://www.teaneckcreek.org/midsummer on August 5th at 6:30 pm.
Consider making a donation today. For every contribution of $25 or more made before August 6th 2020, Teaneck Creek Conservancy will be planting a tree or shrub in their forested wetland to combat erosion and provide habitat for wildlife. Check out their website for more information.
The Teaneck Creek Conservancy is a non-profit organization dedicated to the reclamation and protection of the cultural, historical, and environmental legacy of the Teaneck Creek watershed. Since 2001 we have been working hard to transform a once-neglected dumpsite into a place of natural beauty. Visit our park complete with almost two miles of groomed trails, an Outdoor Classroom for learning, and beautiful artwork such as our Five Pipes Mural and a Peace Labyrinth for quiet reflection. Teaneck Creek Conservancy acts as stewards for this unique space, providing educational opportunities and passive recreational amenities to the surrounding community. http://www.teaneckcreek.org/midsummer
Release ID: 88969909