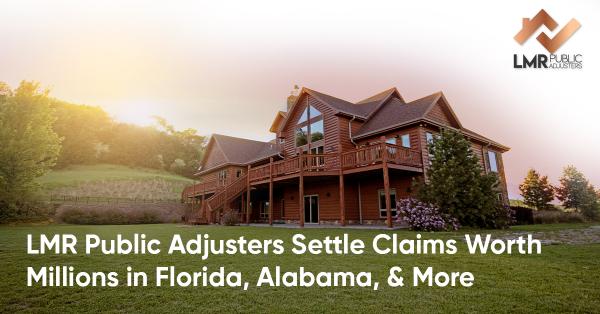 - November 20, 2021 /PressCable/ —
Florida, 11/19/2021 – LMR Public Adjusters offer residential and commercial services in Hollywood, FL and the surrounding Southern Florida communities and are licensed and bonded property loss experts. They know what you are entitled to receive after a loss. Their skilled insurance adjusters can guide you through a claims process until your insurance claim is settled. LMR Public Adjusters immediately send one of their experienced adjusters to your home, association, or business in the wake of an eventuality to evaluate your loss and provide you with a FREE Claim Review.
As you seek help from LMR Public Adjusters, you will see the huge disparity between the amount offered and the amount settled for. You will not have to pay anything up-front and they will only charge a small percentage of the insurance settlement once your case is settled.
Wind damage is often caused by a storm, hurricane, or tornado. With their headquarters in Florida, LMR Public Adjusters are all too familiar with hurricane damage. After a hurricane damage occurs, insurance companies do not automatically pay money to policyholders. In many cases, your insurance company will employ a team of adjusters and engineers to try to deny your claim or to pay you as little compensation as possible for the damage. This is why you need LMR Storm Damage Public Adjusters on your side.
Even if you are still struggling to recover from the damage caused by a hurricane that occurred years ago, it is not too late to have your claim re-opened and get the money you deserve. LMR Public Adjusters have helped their clients receive millions of dollars in additional hurricane insurance proceeds from numerous insurance companies including State Farm, Allstate, Citizens, Nationwide, and many more.
Fire departments throughout the U.S. respond to estimated 1.5 million fires every year. These fires cause property damage exceeding ten billion dollars annually. When your home, building, or business has been destroyed by fire, LMR's fire claims adjusters will ensure that your fire claim is processed in a timely manner and you are paid in full.
LMR Flood Damage Public Adjusters are one of the most esteemed insurance claim adjusting firms. Although most of their clients are located in the Florida and Georgia areas, they are available to help you with your claims anywhere in the United States. With their connections with all the best flood damage insurance companies,LMR Flood Damage Public Adjusters can offer you the best compensation.
In the case of plumbing damage, the sum you receive may not cover all your plumbing damage. Chances are your insurance only covered the replacement of busted pipes and your hardwood floors got ruined. The plumbing damage public adjusters that LMR Public Adjusters will assign to your case will comprise highly experienced plumbing experts to inspect your property and evaluate all the plumbing damage.
LMR Public Adjusters specialize in assessing damage and carrying out proper construction work and clean ups because they utilize critical water damage estimating tools. With the assistance of these state of the art tools, their professionals will build a line-by-line estimate of your damage and they will use it to get the compensation you deserve from your insurance company.
Mold often forms after a home sustains water damage. It is an insidious type of microscopic fungus that can cause significant harm to, or even destroy, the actual structure and contents of your Property. Mold can also cause health problems ranging from stuffy noses and shortness of breath to Chronic diseases and even death. LMR Mold Damage Public Adjusters are here to provide help, Guidance, and hope when you need these the most.
If you notice cracks in your flooring, walls, stairs, or building foundation, you may be looking at the beginning signs of sinkhole damage in your property. LMR Sinkhole Damage Public Adjusters have a team of highly qualified claims adjusters who will investigate and identify the exact reason of damage to your property and assess the true extent of the damage caused.
Pipe burst damage doesn't just occur from flooding after heavy rains. A broken pipe, a leak in a dishwasher hose, or a stoppage in your plumbing system can cause costly damage to your property. LMR pipe burst damage public adjusters understand that repairing pipe burst can be a daunting task. They can ease the burden by helping you with the recovery process.
Lastly, In the case of a condo, when damage occurs, the web of connected properties, including both private and communal areas, can complicate matters and make for uncertain outcomes. LMR Public Adjusters have the knowledge and skill to intervene on your behalf, acting in whatever capacity the situation calls for: public adjuster, loss consultant, or insurance appraiser. They settled cases worth 4.5 million for 75 units of the Miami condo association.
Whatever type of insurance claim you have, you can turn to LMR Public Adjusters for assistance and expect a proper recompense. In the last quarter, they have closed settlement cases of 65 homes worth over 5.5 million.
Release ID: 89053856