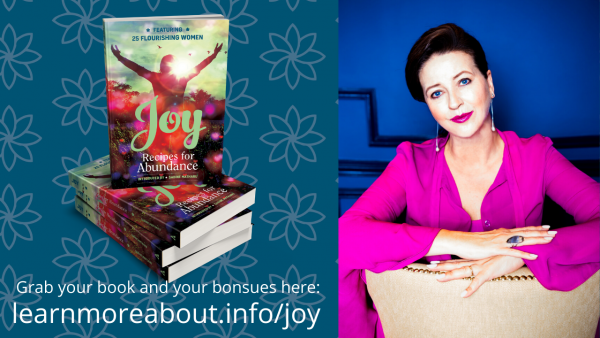 - February 5, 2020 /PressCable/ —
Jeanne Anette Heinzer-Hiemer's story is one of the many inspiring real-life stories that readers will learn from in a newly published book: "Joy – Recipes for Abundance".
Jeanne loves boosting the careers of aspiring young to mid-career professionals by developing their potential to achieve results and international success. She provides them with access to an international network and a vision and strategy for a successful and satisfying personal and professional life.
After growing up in a strict Catholic household in Germany, Jeanne Anette Heinzer-Hiemer found joy in the pursuit of far-flung places. She kicks off her life of travel by taking the brave step to move to her dream city of Paris, mastering the art of carving out homes for herself and her family with a sense of joy throughout. We find her eventually in the friendly bosom of Morocco, a colourful paradise which grabbed her by the heart and never let go. Finding joy in the imperfect perfectness of the place, Jeanne's story proves that finding your 'place' wherever that may be, is a fruitful and worthy endeavour.
Jeanne's story is one of twenty-five joyful and inspiring stories published in "Joy – Recipes for Abundance" by Sabine Matharu of Reach For Greatness Publishing, the second in a series of four books where entrepreneurial women share their recipes for joy and abundance through tales of overcoming, determination and gratitude. From nutrition, travel and community to spiritual practise, compassion and self-realisation, they each reveal their unique recipes towards creating a joyful and abundant life, available to each of us.
This book offers inspiring, lived ideas for all women to awaken to joy and through these joyful narratives, you will discover how to:
Nourish joy through the grips of adversity
Stir up opportunities for joy in the small, 'everydayness' of life
Create a strong and lasting foundation to keep bringing more of it into your life
Share the sweet taste of joy with the world and those around you
Become inspired to create your own recipes for joyful abundance.
One of the readers said: "The women in this book have truly harnessed what it is to live in JOY. Their stories are phenomenally inspirational and will have you hooked from the get go".
You can download the book here: https://www.learnmoreabout.info/joy
Connect with Jeanne Anette Heinzer-Hiemer: heinzerconsulting.com
Whatsapp/phone:
0044 7443 09 57 90 (London)
0041 76 789 83 12 (Switzerland)
00212 6 12 11 58 92 (Morocco)
jeanne.heinzer@heinzerconsulting.com
Release ID: 88945180