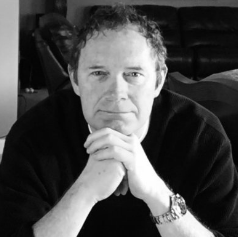 - September 27, 2016 /PressCable/ —
John Costigan, known for his "Live" Cold Calling Sales Training Classes, Motivational Speaking and mp3 download of, "What To Say And How To Say it" has announced the successful sale of his training company; New Velocity, formerly Costigan Training.
"I'm incredibly thankful for having the opportunity to work with so many wonderful people over the course of the last 15 years. It's something I couldn't have imagined in my wildest dreams." Costigan said. Since 2002, he's had his own radio show, sold thousands of audio tapes and has trained over a quarter of a million people worldwide. However, the man who was named one of the "Top 25 Most Influential Sales Trainers by The American Association of Sales Professionals and also voted Best Motivational Speaker two years in a row by The Association of Health Care Professionals, isn't heading off into the sunset just yet.
"The sale was official at 5 pm on Friday August 31st, and by that following Monday at 8:00 am, I was trying to stay away from sharp objects." Costigan jokes.
It was this "nervous anxiety" that kept John driven to rely on past experiences to search for what his customers felt they were missing most. "Their products are unique, their challenges are unique, their value prop is unique, but the sales training programs they receive are generic. Putting your customer's logo on the front of a 3 ring binder doesn't make it custom." Costigan quips. "Customers want customized sales training specific to their industry. They have unique problems, unique customers with unique demands…but we're giving them generic training."
Mr. Costigan gained notoriety for his "live" cold calling training sessions in which the techniques demonstrated were in fact done "live", on his prospect's most difficult opportunities. "The best part of those cold calling classes was not just helping clients acquire new business," Mr. Costigan explains. "But seeing the impact on sales people and their new found belief in themselves."
As Mr. Costigan continues with his motivational speaking engagements around the world, he's already in full swing with a team of developers creating his next big project. "This is a ground breaking method that no one has seen before and will improve retention and skills by 40%." When asked, "What's it called?" He simply replied, "I have no clue; but everybody wants it right now. Who knows, maybe it will be called "Right Now Sales Training."
His new platform will be launched in November 2016.
Release ID: 134583