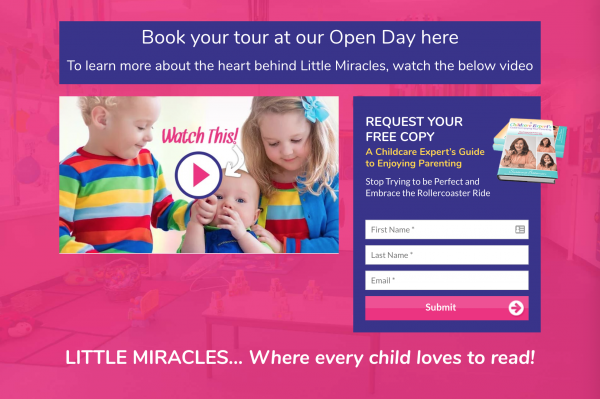 - September 11, 2020 /NewsNetwork/ —
Little Miracles is pleased to announce the dates for the upcoming Open Days to be observed in all its centres. The Little Miracles centres at Point Clare, Terrigal, Tuggerah, and Niagara Park will organise the Open Day on September 12. On the other hand, the centres at Medowie, Toronto, Rutherford, and Swansea will host the event on September 19.
More about the event can be found at https://www.littlemiracles.com.au/tour/
"Each year, each Little Miracles centre has an Open Day. We organise these fun mornings for our enrolled families and also open them to the community for other families to enjoy as well. Unfortunately, due to the Covid-19 pandemic, we are unable to hold our usual celebration. However, we are still making tours available on a Saturday morning for prospective new families," said Little Miracles co-founder Susanna Bateman.
An Open Day may be referred to as an event held at an institution where its doors are open to the general public to allow people to look around the institution and learn about it. Open Days are important events for both students and educational institutions. This event provides the perfect opportunity for parents to talk to teachers and discuss their concerns.
The upcoming Open Days at Little Miracles will be for individual family groups and staggered to ensure safe social distancing from other families. To help organise these tours, Little Miracles is requesting families to book a time for their tour via its website. Families that are unable to attend the Saturday tour are welcome to book a time during the week by completing their details.
Each Little Miracles centre is dedicated to creating an environment where children feel loved, valued, safe and free to develop to their full potential. The weekly curriculum of the centres includes family news group times, learning experiences and activities, interesting projects, intentional teaching times with educators and incidental learning. Little Miracles also offers its unique Teach Your Toddler to Read program, monthly Free Gift Book program and School Readiness program. All the Little Miracles centres participate in the National Quality Standards and the Early Years Learning Framework.
To find out more about Little Miracles, please visit https://www.littlemiracles.com.au/
About Little Miracles: A highly acclaimed childcare centre, Little Miracles loves seeing each and every child in its care grow and develop, believe in who they are and have plenty of fun along the way. The goal at each Little Miracles centre is to create an environment where children feels loved, valued, safe and free to develop to their full potential. The institution's dedicated team sees all children as "Little Miracles" with special gifts and talents and work to build upon their uniqueness.
Release ID: 88976363