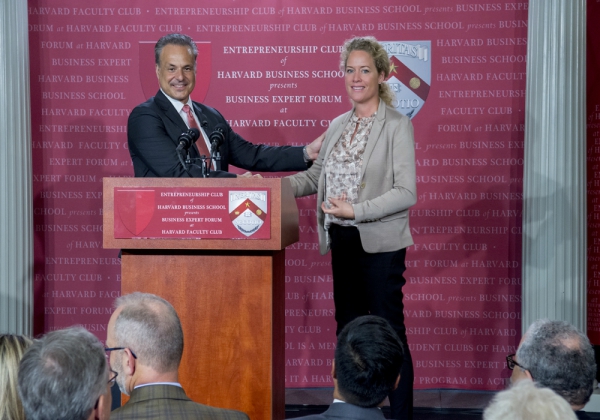 - October 23, 2017 /PressCable/ —
LISE GOTTLIEB, a well-known and successful serial entrepreneur from Denmark who is also known as "The eCommerce Queen of Denmark" has received the eCommerce 2017 Award at the Business Expert Forum at Harvard Faculty Club recently. She spoke at the Thought Leader 2017 Conference at the Entrepreneurship's Club at Harvard Business School about her eCommerce Formula "Power eCom Formula" and the results of her own and her students.
This is the very first time that the award is given to a woman and to a person outside the US. Lise Gottlieb received the award because of her unique method known as the "Power eCom Formula", based upon her keen mastery of the art of selling online and teaching this method to other business owners and entrepreneurs to help them achieve huge success and profit as well.
"It was an honor to share my vision with more than 160 entrepreneurs, medical professionals, lawyers, financial experts and authors at Harvard" said Gottlieb. "To earn the 'eCommerce' award for helping business owners take their lives and careers to the next level was amazing."
Her method is unique due to the analytical approach to the choice of products and market as well as the high focus on website conversion. She also deserved the award because of her expertise in marketing and she was known to have a highly intelligent analytical approach to business as well as the audience and market. Her successful business method is composed of three main components and an easy to follow step-by-step blueprint to business profit.
The "Power eCom Formula" is a step by step blueprint of training videos and mentoring from Lise Gottlieb, that helps business owners to simplify their business process, optimize the sales process and market it to the perfect audience. It's mission is to bring their product and services infront of the right audience, and to make sure it's priced and bundled correct to make a high conversion on the website or webshop" said Lise Gottlieb, who said there are more volumes of entrepreneurs who have an unprofitable webshop than the opposite; and she is seeking upcomming entrepreneurs who need more profit from their online business and who want to create their own destiny their own freedom to join her new program.
While in Boston, Gottlieb was interviewed by Heather Poduska on the Thrive! TV show about entrepreneurship and how to pick the "low hanging fruits" to increase sales and profit in any business and discussed the popular and efficient "Power eCom Formula".
There are many things that make Lise Gottlieb a very outstanding person and award-winning business authority. Since childhood, she was completely determined to succeed. Though she had a very promising career back then and she excel in real estate, banking, mortgage, investment and IT industry, she left the corporate world and decided to launch her own business. But due to financial crisis, her business failed and unfortunately, she also developed thyroid disease and ulcerative colitis. Instead of stopping her, these challenges have inspired her to write books that helps all those who are also suffering in life.
With all these amazing acomplishments Lise Gottlieb fully deserved the award and recognition. During the awarding, many other entrepreneurs at the Thought Leaders Conference were very excited about Gottlieb's speech as well as for the intelligent method and approach to eCommerce.
Gottlieb is currently touring the United States appearing on local TV programs discussing "The Power of Profit", "low hanging friut" and "how to increase sales and profit in any business". To get more information about Gottlieb's program, send her a message at her website.
Aside from being am award winning speaker Lise Gottlieb is also a successful and popular business coach, an international bestselling author and marketing expert. In Noveber she is having a private Mastermind in Atlanta, for a small group of only 15 people and in December she will be speaking at Nasdaq in NYC.
Release ID: 253240