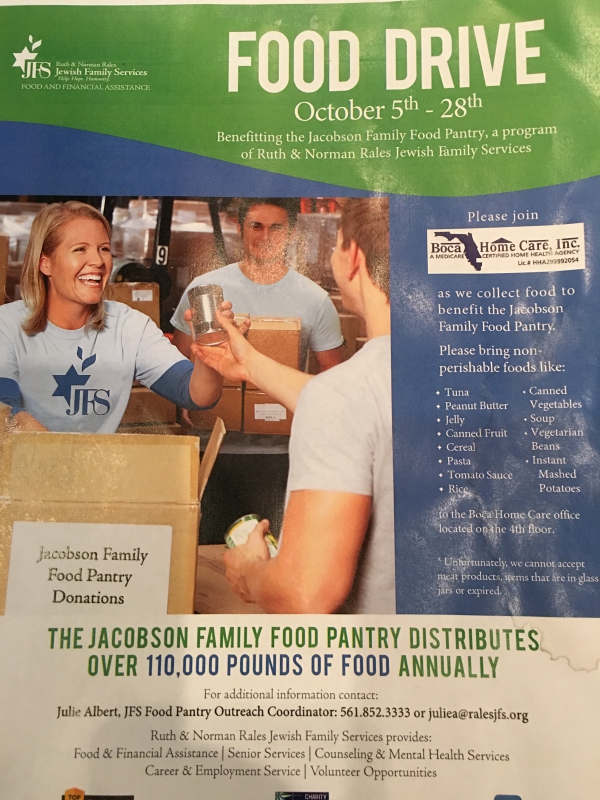 - November 9, 2016 /PressCable/ —
Lisa Kaufman, the founder of Boca Home Care, Boca Home Care Services, Miami Home Care Services, and Spectrum Behavioral Services, has sponsored the food drive for the Jacobs's Family Food Drive as a means of giving back to the community. She has always been devoted to helping people, not just through her business but by getting involved in the local community, and prides herself on her charity work.
More information on her Boca Home Care Services company is available at: http://bocahomecareservices.com.
Boca Home Care Services offers home care for people in need, providing carefully matched and screened experienced and certified home care aides and nursing aides to ageing seniors in Boca Raton and the surrounding cities.
Whether ageing seniors are simply in need of a bit of extra help around the home, or if they have suffered from a fall and are currently recovering, or have had surgery recently and need in-home help to get them through the day, the elder care professionals provide total expert home health care where it's most needed.
Lisa Kaufman's home care company has served South Florida since 1998, with attentive staff helping people to live more comfortable lives. As well as helping around the home, the company can help with shopping, cooking, laundry and light housekeeping.
Now, in order to give back to the community further, Lisa has sponsored the Jacobs Family Food Pantry, which delivers over 110,000 pounds of food annually to help people experiencing serious financial difficulties.
The pantry was created in 1996 to help ensure that no individual or family in the community went hungry, and prides itself on its high levels of sensitive care, with items given out with courtesy.
Lisa, who sits on the board of JFS, said: "I am donating because Jewish Family Service runs their Jacobson food pantry professionally and with courtesy to all the needy. No one feels it is a hand out. Everyone is respected. Boca Home Care Services is proud to have been able to participate in such an important part of community resource development."
Release ID: 144477