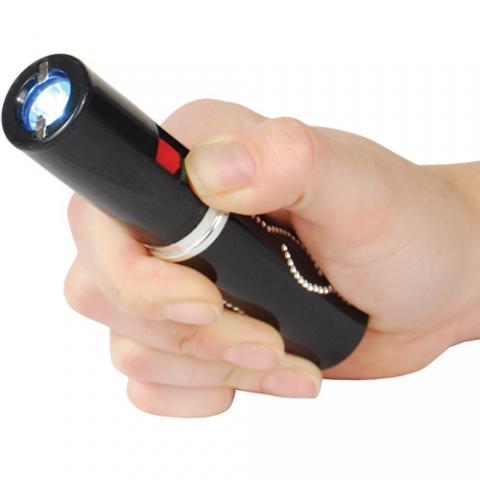 - May 15, 2021 /NewsNetwork/ —
Revere Security, a seller of self-defense products based in Jacksonville, Florida, has launched a rechargeable stun gun with a built-in flashlight cleverly disguised as a tube of lipstick.
More details can be found at https://reveresecurity.com/product/lipstick-stun-gun-rechargeable-flashlight
The launch of the 25,000,000-volt Lipstick Stun Gun With Flashlight aims to provide users with a convenient and portable device for their personal safety. It has also been designed to disarm attackers not only physically but mentally: its lipstick-like appearance fools them into believing their target is unarmed, which makes the device easier to use.
Various reports have deemed stun guns as safe and effective self-defense devices. They use high voltage to quickly immobilize an attacker but don't cause any serious harm or injury because their amperage is very low.
Measuring 5 inches by 1 inch, the Lipstick Stun Gun With Flashlight has 4.2 Milliamps, depending on how much power is in its rechargeable battery. The device features an integrated charger, and two buttons under the cap. Pressing one button turns on the Bright 100 Lumen Flashlight and pressing the other button deploys the stun gun. It's available in five colors: black, red, pink, gold and purple.
Other advantages of the Lipstick Stun Gun With Flashlight include its small size, so it's lightweight and can be easily concealed. This means users are more likely to carry it everywhere, whether it's in a purse or a pocket. The device is also legal in most U.S. states, yet potential users are advised to check their local laws.
Revere Security offers self-defense devices that include mace, pepper spray, personal alarms and more, in addition to stun guns. The company is currently offering the Lipstick Stun Gun With Flashlight at a reduced price and with free shipping.
A company spokesperson said: "It's important to be prepared for any situation, so it's no wonder that the market has been flooded with self-defense devices. One of these products is a stun gun. This can be used by law enforcement and civilians as an alternative to lethal measures when faced with non-compliance or aggression from another human being."
Interested parties can find more information by visiting https://reveresecurity.com/product/lipstick-stun-gun-rechargeable-flashlight
Release ID: 89015084