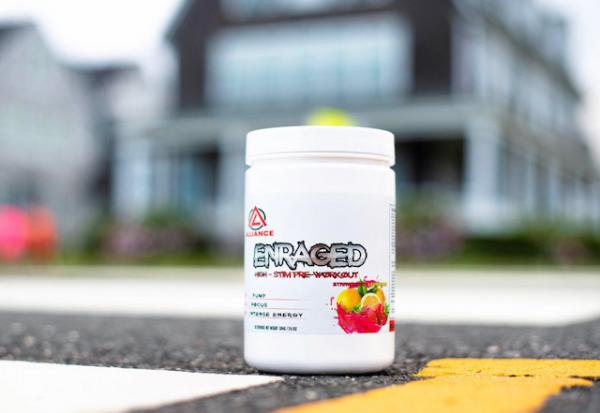 - March 4, 2021 /PressCable/ —
Nutracore Supplements, a sports nutrition and health supplement retailer, has released a high-stimulation pre-workout supplement from Nutrishop Alliance called Enrage that increases blood flow, boosts lipolysis, fights fatigue, and helps the body gain muscle mass. Enrage optimizes metabolism for more effective workouts.
For more information, please visit https://nutracoresupplements.com/products/enraged?variant=31281673273479
Enrage was released for exercisers who are looking to eat a balanced diet filled with the necessary vitamins, amino acids, and minerals ideal for burning body fat and gaining body shape.
Enrage comes in two flavors, strawberry lemonade and blue lemon, and is best consumed 30 minutes before a workout. A scoop of the powder should be stirred into 8-10 ounces of water.
Though many people believe that protein is the most essential nutrient for building muscle, the body also requires other nutrients like carbohydrates, fats, minerals, and vitamins for optimal muscle development and a high metabolism. Enraged provides those nutrients, making it easier for exercisers who may be counting and balancing macronutrients on their own.
Enraged delivers Vitamin C for protein synthesis, Niacin for breaking down carbohydrates into glucose, and Vitamin B6 for breaking down glucose into energy. Other ingredients increase muscle strength, suppress cortisol, boost endurance, fight fatigue, synthesize amino acids, improve mental alertness, and decrease stress. Several ingredients are all-natural, including black pepper fruit extract, used for preventing the formation of fat cells, and velvet bean, a chemical found in plants that helps build lean muscles and burn fat.
Because Enraged is such a potent supplement, it is not recommended for use along with additional supplements.
Says a user, "This stuff works really well. I noticed a difference 3 days in. Within 1 week the results were undeniable. I will definitely be buying more." Adds another, "It's fast acting and gives me the energy I need during my workout and the rest of my day. I don't feel jittery like some other supplements I've tried."
The supplement can be ordered online from Nutracore Supplements, which offers free shipping. Interested parties should visit the above-mentioned website.
Release ID: 88999831