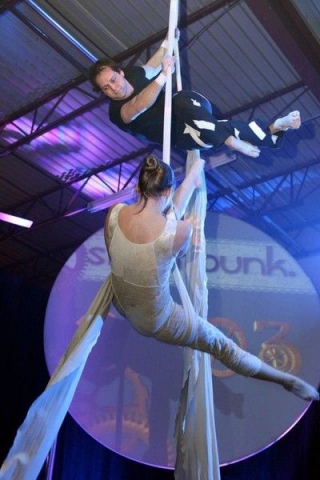 - February 7, 2017 /PressCable/ —
2 Defy Gravity Aerial and Circus Performances
2 Defy Gravity co-owner, Cade Holmseth, provided Aerial Performance Training to professional dancers from the Disney's Lion King Broadway touring troupe who were on a stopover in Minneapolis. The dancers had seen Aerial and Circus performances on America's Got Talent, and they wanted to incorporate the beauty and "Wow" factor in their skills.
Aerial and Circus Performances by the 2 Defy Gravity duo of Cade Holmseth and Marissa Dorshner have been wowing audiences since they launched their company in St. Paul in 2009. They provide a beautiful and death defying circus-based performance entertainment to organizations, fundraisers, special events, product launches, weddings, and corporate events throughout the Twin Cities and the Midwest. The duo promised to shake things up in the entertainment world and nearly 9 years later, facts are in.
Previously, with even a passing glance, a person would notice their performances are elegant and extraordinary. The Co-Founder and Principal at 2 Defy Gravity, Cade Holmseth, makes a point of saying "things were always going to change when 2 Defy Gravity launched the Aerial Performance and Training Program. People want to learn to fly".
Cade Holmseth continues… "The goal was to share the beauty and strength required in Aerial and Circus Arts with the professional dancers from the touring Broadway show "Disney's Lion King". 2 Defy Gravity is designed to be an innovator and leader in the Aerial Performance world. Ultimately it was going to be a huge benefit to customers because 2 Defy Gravity performances are thrilling. Maybe others will follow suit."
2 Defy Gravity was established in 2009. It has always aimed to provide world-class professional entertainment to conferences, meetings, and special events across the Midwest..
With a combined total of over 40 years experience in Circus and dance, 2 Defy Gravity offers top level professional entertainment that will make any event stand out in peoples' memories. They bring strength and beauty together with danger and awe in a way most people only dream to experience! Combining the circus arts of silks, lyra, acro-balancing, trapeze, chains and fire with dance and aerial dance, they are a great addition to any event or party. The 2 Defy Gravity aerial performers continually improve, learning new skills and teaching others aerial arts. This alone was enough to make 2Defy Gravity's Aerial performance troupe more popular with customers who want thrilling, elegant and timeless entertainment for their event.
For further information about hiring 2 Defy Gravity for an event, this can be discovered at http://2defygravity.com/
Training in Aerial and Circus Arts is now available to buy and review at the website. To find out more, the place to visit is http://2defygravity.com/classes-and-workshops/
Release ID: 166928