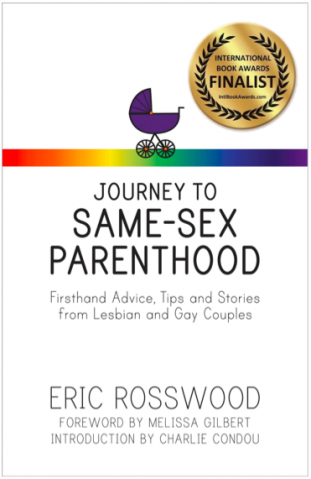 - May 24, 2017 /PressCable/ —
LOS ANGELES – Journey to Same-Sex Parenthood was an Award-Winning Finalist in the "LGBTQ: Non-Fiction" category of the 2017 International Book Awards (IBA). Over 300 winners and finalists were announced in over 80 categories on May 22, 2017. Jeffrey Keen, President and CEO of American Book Fest, said this year's contest yielded over 1,500 entries from authors and publishers around the world, which were then narrowed down to the final results.
"I'm excited that the book was a finalist in the International Book Awards," said Eric Rosswood, author of Journey to Same-Sex Parenthood. "LGBTQ couples are faced with many different options when choosing to have children today. It's good to know that this book is being recognized for helping so many people in our community start their own families."
Journey to Same-Sex Parenthood provides a unique combination of inspirational firsthand accounts combined with the critical information, tips and advice needed to help couples successfully navigate the complex road to parenthood. The book guides readers through the various challenges related to adoption, foster care, surrogacy, assisted reproduction, and co-parenting.
The Midwest Book Review said Journey to Same-Sex Parenthood was "An absolute "must-have" for any LGBT couple engaged in family planning," and Gay-San Diego said it was "destined to be the resource book of the decade for LGBTQ couples." NY State Assembly Member Daniel J. O'Donnell also praised the book.
"This book is an eye-opener for what same-sex couples really go through when trying to start a family," said O'Donnell. "In my work as a legislator advocating on behalf of our community, I've seen the stumbling blocks many couples face on the path to becoming parents—both in law and in society—and this book is a great resource for couples considering this often difficult process."
The foreword for Journey to Same-Sex Parenthood was written by actor and New York Times Best Selling Author, Melissa Gilbert, and the introduction was written by British actor, Charlie Condou.
Persons interested in learning more about Journey to Same-Sex Parenthood can visit www.samesexparenthood.com.
Release ID: 202384