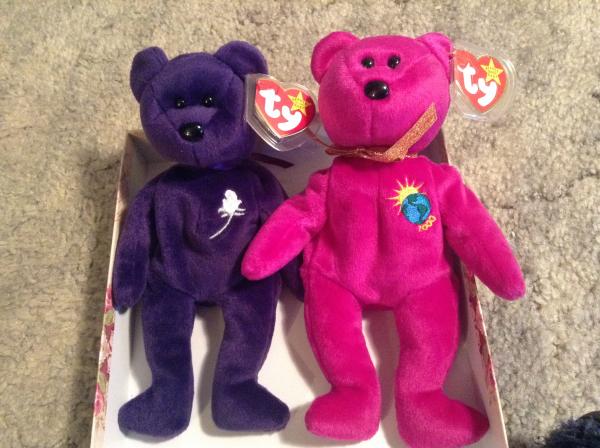 - June 26, 2018 /PressCable/ —
A 10 year old child in need of help is raising money this week by selling off her most treasured possessions: two rare original Ty Beanie Babies. Millennium bear has four coveted tag errors, and Princess is an early edition of one of the most valued Beanie Babies of all time.
https://www.youtube.com/watch?v=1uqp16XW0tQ
This is a child who had a rough start in life, having suffered injuries at birth while being delivered by forceps due to medical negligence. Her injuries were provably preventable and yet the hospital and doctor responsible have never been held accountable, due to financial barriers to legal resources in Canada.
Diagnosed with high-functioning autism at age three, the suspected brain injury was treated and explained away under this broad label – though one expert who worked with her for years came to the conclusion that she was very atypical for her diagnosis and it looked a lot more like brain injury than autism. Her apparently autistic symptoms were parallel to symptoms that would indicate brain injury caused by the traumatic birth.
Shocked and appalled, her mother consulted with a Toronto attorney and a Vancouver attorney specializing in birth injury. She provided a diagnosis of cervical subluxation with x-rays from a chiropractor, and when that wasn't enough evidence for them, had further x-rays and an additional diagnosis of scoliosis along with the cervical subluxation provided by her family doctor, who also had immediately referred her to an orthopedic pediatrician at the BC Children's Hospital upon receiving this result. Unfortunately despite the x-rays and diagnoses supportive of the birth injury, as well as an expert who suggested that it was brain injury rather than autism, the lawyers now required an additional brain scan to verify brain injury in order to proceed with the case in a court of law.
Both lawyers said essentially the same thing – 'Come back to us with the brain scan, or pay by the hour'. The family was going through a great deal of pain facing the trauma of this injustice, and the indifference they faced with these Canadian attorneys was another slap in the face. It was a difficult time for the family because they didn't have $2000+ for the brain scan and getting a publicly funded test likely will take several years. They already experienced the dilemma of being forced to pay thousands for private medical services when urgently needed, while enduring multiple year wait referral for public medical services in BC.
Her mother was threatened with murder while pregnant and has been a single parent receiving no child support since she was born. Mom, a writer, webmaster and digital marketer, has recently been sick and in between gigs so there hasn't been money for much beyond the basics lately.
After the latest referral to BC Children's Hospital, for an orthopedic pediatrician, the child was turned away with the reason given that they had limited resources and so only took the most severe of cases. Mom wants to get her child treatment for her back and neck issues but paying out of pocket for specialty chiropractic service is currently not something she can manage.
Here is a child in need of medical treatment for her scoliosis and bent neck due to birth injury via medical negligence, who cannot afford to pay for this treatment in her home country of Canada. These medical problems that were inflicted upon her via medical negligence are handed back to the family as an out of pocket expense, which becomes a treatment that financial barriers prevent her from receiving. At the same time she is financially prevented access by the best supposed advocates from the legal system to fight for justice for the medical negligence that caused these injuries in the first place – advocates who could easily have paid for the additional medical testing they requested, but instead chose indifference and apathy in the face of clear, evident and obvious injustice and suffering.
This 10 year old child has suffered a great injustice and to add insult to injury she has also faced adversity, and apathy in the face of serious problems that she needs help with.
This child is bright, creative, works hard at school and is talented as an artist, yet is also disabled by her birth injuries. She is a wonderful, loving young woman who loves the song 'God's Plan' by Canadian artist Drake. When she saw the video, she was warmed to see Drake's generosity when he was filmed sharing almost a million dollars with people in need in Miami. It inspired her as this is something she has rarely witnessed her life with all the doors that have been closed in her face, being denied justice by legal gatekeepers, and denied access to crucial medical services which her family currently cannot afford to pay privately.
As a result, she decided to do something about it! She has been hunting down and collecting rare beanie babies for several years and had a stroke of luck when she was able to collect two rare original beanie babies – Princess and Millennium bear. She has decided to liquidate her rare beanie babies in order to fund her urgent medical care, legal care and other emergency necessities. The sale of these beanies will provide her the funding needed her to pursue legal justice for the physical and unnecessary damage that was done to her as an innocent baby, lifelong, permanent damage that has greatly impacted this talented girl's life and future.
Help change this child's luck today. Help her get access to medical and legal help she desperately needs but has not been able to access in her home country of Canada due to financial barriers. Purchase Millennium bear or buy Princess bear by clicking on the link below. Visit the website to view the listings, for contact information, updates, or to make a donation.
Release ID: 364483