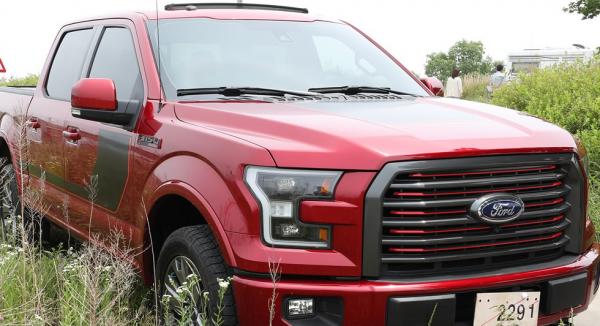 - January 17, 2021 /NewsNetwork/ —
Aussies eager to get their hands on US bestseller Ford F-150.
With 2020 bringing about a renewed appreciation for attractions at home, Australians are eager to get the towing vehicle that has it all. And when it comes to muscle combined with comfort and safety, the Ford F-150, a top seller in the US, is also getting the Aussie vote. Maracoonda Automotive, a specialised company that has been importing in-demand towing vehicles and doing mirror-image conversions for decades, is experiencing the Ford F-150 phenomenon at first hand.
Read: Imported American Ford Pickup Trucks Quality Towing Vehicles Lefthand Conversion
According to Anne Anderson, co-owner of Maracoonda Automotive, Aussies are in love with the Ford F-150 for pretty much the same reasons as everyone else is. They're luxury pickups with high tow ratings that are ideal for taking horse boxes, mobile homes, and boats out on the road.
"Maracoonda Automotive recommends the Ford F-150 to many of its clients," says Anne. "They know they can count on a Maracoonda recommendation and that the workshop will perform a fully-compliant conversion that's safe, reliable, and has a high resale value."
The Ford F-150 also offers a variety of options, making it possible for Anne and the team to recommend what best suits the client. What they have in common is a ten-speed automatic transmission and various trim levels. The mid-priced Lariat Super Crew 4×4 has what it takes for most Maracoonda clients to place their orders. "The trailer tow with integrated trailer brake combination are excellent features that enhance an already-worthwhile towing vehicle," says Anne. "All in all, it's a good choice. However, the precise choice of vehicle will always depend on the client's towing-vehicle requirements."
Despite its hardiness, the Ford-F150 is ready to cocoon its driver and passengers in luxury. Once again, there are a variety of options: "It's already so comfortable that the massaging seats option is only preferred by those planning very long trips, but the sunroof is a spectacular addition that matches many clients' love for the outdoors and a sense of space and freedom," says Anne. "On the practical side, there is plenty of packing space for personal effects and luggage." she adds.
Read: American Pickups Ford RAM Trucks Left-hand Converted Australian Towing Vehicles
Maracoonda Automotive notes that while the Ford F-150 is an excellent choice, there are other worthy contenders. "It's impossible to talk in absolutes," says Anne. "Individuals have their own preferences and needs, and Maracoonda Automotive is geared to recommend
vehicle options to match. Each of the imported US pickup brands and models imported by Maracoonda has its own strong points, and it's up to clients to compare these and decide on the package that best suits their needs. It isn't always the Ford. For example, RAM trucks also have a lot to offer, and although Maracoonda is happy to suggest suitable towing vehicles for Australian conditions, the client has the final say."
Nevertheless, Anne Anderson, a veteran in the business of mirror-image conversions of US vehicles who began her career in the workshop rather than the office, agrees that the Ford F-150 is a remarkable towing vehicle. "Maracoonda's clients have been putting Ford F-150s to the test, and the feedback they give is excellent," she says. "In part, that's thanks to the vehicle itself, but a lot goes into the conversion process, so we take it as a compliment to Maracoonda Automotive too."
For more information visit Maracoonda Automotive | American Pickup Truck Imports Queensland website or call Ann and her team of experts on 07 5496 7773.
Syndicated by Baxton Media, The Market Influencers, Your Digital Marketing Agency.
Release ID: 88993358