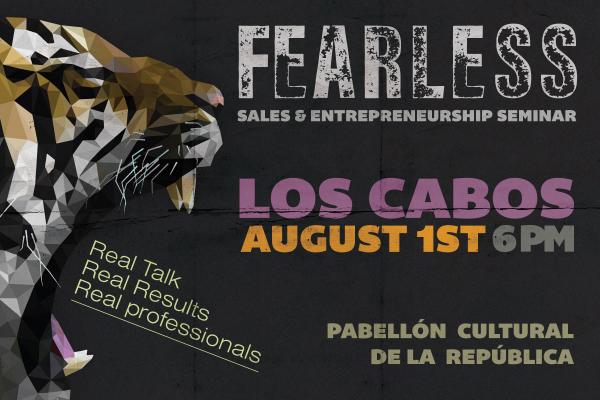 - July 19, 2019 /PressCable/ —
This August 1, 2019 at El Pabellon Cultural de la Republica (5-9pm) Los Cabos will host for the first time ever FEARLESS.
FEARLESS is brought to you by today's leading top producers. These are real professionals, real talk and real results (Sales Professionals, Entrepreneurs, Influential Leaders).
FEARLESS a unique event as it only invites real life experts who are actually active and getting crazy results. These are not your typical speakers, sales trainers or entrepreneurs who just don't have the results, or simply have been out of the game for years and don't quite understand today's market.
The speakers at this event are actually in the trenches! They understand the market, psychology and business better than anyone else.
The speaker lineup includes:
Brent Underdahl
Popularly known in Los Cabos for his accomplishments and considered as one of the best sales professionals and Master closers Los Cabos has ever seen. He's sold over $200 Million USD in only the last 5yrs and has an impressive closing ratio of over 70% in the Timeshare/Fractional ownership industry. He is a founding partner of Ironman Marketing at Diamante and shares a passion for sales psychology and sales training that has impacted many sales professionals into achieving massive success.
Nick Fong
Leader and Top producer in The Los Cabos Real Estate market, founder of Los Cabos Agent, He is a Licensed Real Estate broker with a degree in Real Estate finance from the University of Illinois. He has been Featured on HGTV´s Mexico Life and Beach Front Bargain Hunt. His work ethic and knowledge have earned him the respect and honors of being Cabo's #1 agent.
Peter Voogd
He's been labeled as the world's leading authority for millennials and entrepreneurs by Entrepreneur.com, His strategies have been featured in Forbes, Entrepreneur Magazine, Huffington Post, Business Insider, Yahoo Finance, MSN, amongst many other international publications. He is the founder of the prestigious Game Changer's Academy who's aim is to help ambitious entrepreneurs elevate to new heights and succeed on a level they never thought possible.
Tony Martinez
He is the founder of FEARLESS and is one of the youngest sales strategist and consulting experts in the industry. At the age of 21 he became the youngest Sales Director in the timeshare industry. His passion for continuous learning and self improvement has lead him to a very impressive trajectory having worked and consulted with companies such as; The Hilton Grand, Sheraton Resorts, Melia Group, Occidental Resorts, Vidanta, Top Mexico Real Estate, Los Amigos Tulum amongst many others. Today, he is an Elite Sales Professional, sales strategist, entrepreneur and real estate developer who shares a wisdom and understanding of human psychology that transcends cultures and languages.
Nico Wilmes
Entrepreneur, Visionary and CEO of Los Amigos Tulum. Nico's daring and revolutionary ideas have created what has become the largest and most innovative real estate developer in Tulum. One of his developments holds the record for having the first 360 degree infinity pool in the world. He has introduced new renewable technologies to Tulum and is on the brink of bringing the first zero emission passenger drone to Mexico. His mission and passion for making Mexico a more sustainable place has helped set a new standard of construction and sustainable developments in Mexico.
The information you will learn at this event cannot be found in most books, manuals or seminars.
This event is perfect for anyone in business, timeshare sales, real estate, network marketing, online marketing, entrepreneurs, and anyone who is ready to reach their next level of success!
Learn more about FEARLESS Los Cabos at https://successisthemovement.com
Purchase tickets at https://www.ticketopolis.com/fearlessloscabos/
Release ID: 88898583