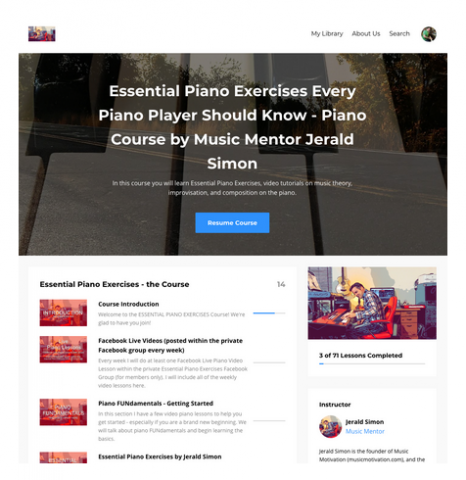 - September 20, 2020 /NewsNetwork/ —
Music Motivation® has announced the launch of its 'Essential Piano Exercises Course' by Jerald Simon for people who are looking to learn to play the piano, regardless of their previous experiences.
More information is available at http://www.playthe88.com.
The newly released course gives people everything they need to know in order to learn to play the piano from home. Designed to accommodate learners who are complete beginners or those who have some prior experience, the Essential Piano Exercises Course aims to help people develop their piano skills further.
Learning to play the piano can be both a rewarding and entertaining pursuit for people of any age, and has also been known to help combat depression and stress for the player. However, finding a course that allows people to learn at their own pace and covers all the necessary information while being fun and engaging can be challenging. Music Motivation® aims to solve this issue by giving people a self-paced and fun course for learning piano that covers all the key areas.
Created by Jerald Simon, the Essential Piano Exercises Course aims to give the students all the tools they need to progress in their piano playing, covering the essential information such as scales, arpeggios, and chords. Learners of the online music platform will also develop skills in how to play from fake books, as well as how to transpose music for the piano.
The Essential Piano Exercises Course from Music Motivation® can benefit both beginners and
intermediate players wanting to learn more about music theory, such as how to read music, music arranging techniques, and improvisation. Furthermore, the course was created for both traditional and non-traditional piano players, making it beneficial regardless of their playing style.
The lessons in the Essential Piano Exercises Course include videos with overhead views of Jerald playing the piano, allowing learners to see exactly what he is playing while he explains what he is doing. Additionally, the course includes PDF sheets with each exercise written out for studying. Detailed information on the course can also be found here, https://www.essentialpianoexercises.com.
The Essential Piano Exercises Course also includes further support through a Facebook group where learners can share videos and ask questions. Jerald also conducts live sessions each week to teach on additional topics, and interact with students and answer further questions.
Interested parties can find more information by visiting the website mentioned above.
Release ID: 88977547