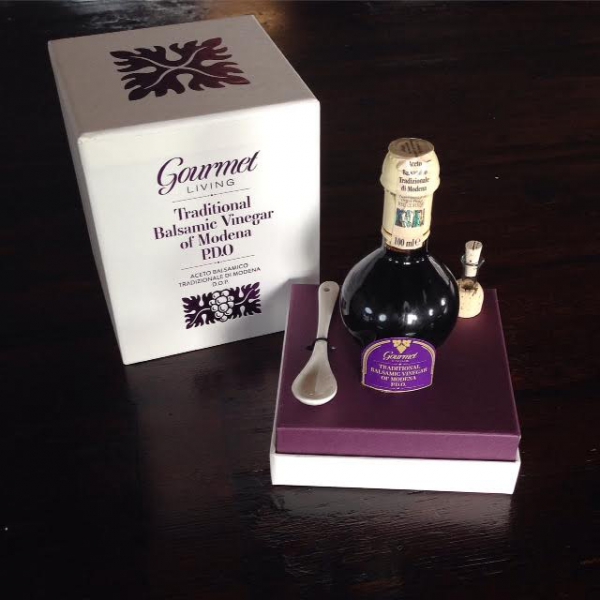 - August 24, 2016 /PressCable/ —
Gourmet Living recently launched its certified 100 ml bottle of traditional balsamic vinegar that has been tested and sealed in a distinctive bottle by the Italian government to insure that the product is genuine and untainted by additives. 12 Year Old Traditional Balsamic Vinegar of Modena is now available for sale exclusively on the Gourmet Living eCommerce website. This traditional balsamic vinegar is sold with a distinctive handmade gifting box and is a special gift for serious gourmands.
The idea for creating the 12 Year Old Traditional Balsamic Vinegar of Modena came about after discovering how many consumers were being deceived by fraudulently labeled "traditional" or "DOP" balsamic vinegars being sold in grocery stores and gourmet boutiques.
Traditional Balsamic Vinegar of Modena consists entirely of wine must from the Trebbiano grape that is heated and reduced after the harvest and then aged in a battery of barrels for no less that 12 years. The aged wine must is then tested, sealed and bottled by the Italian growers association in distinctive 100 ml bottles.
Gourmet Living's certified traditional balsamic vinegar provides consumers with a guarantee that its vinegar contains no additives, wine vinegar or other contaminants. The balsamic vinegar is harvested and aged by a family-owned business in Modena. Gourmet Living obtained permission from the Italian authorities to bottle its 12-year old traditional balsamic vinegar under its own label.
Gourmet Living got it's start when co-founders Sheila and Richard May saw a need to provide consumers with a genuine "traditional" balsamic vinegar consisting solely of barrel-aged "wine must" aged for no less than 12 years. With many years in marketing branded products and many more years in studying under acclaimed culinary talents like Marcella Hazan prior experience in the gourmet food products world, Sheila May decided to move forward with the concept in 2014.
Sheila May is quoted saying: "We like to do things to add value to the lives of our clients. We sponsor special promotions, provide nutritional information to consumers and share recipes that use Gourmet Living products."
12 Year Old Traditional Balsamic Vinegar of Modena has been live for 18 months. To find out more, one can visit https://shop.gourmetliving.org/products/traditiona…
For more facts and further information about Gourmet Living, go to http://gourmetliving.org
Release ID: 129241