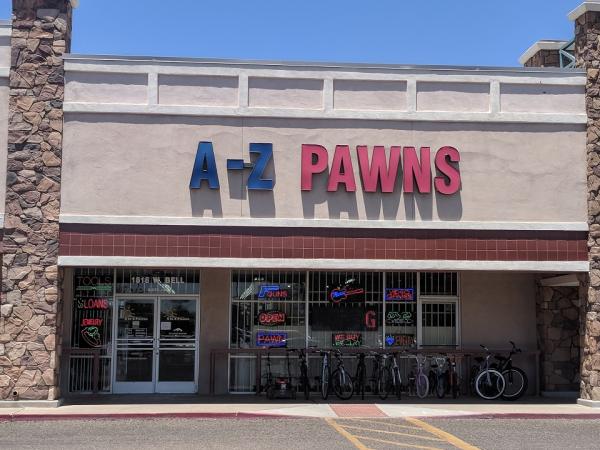 - June 22, 2018 /PressCable/ —
Phoenix AZ – A to Z Pawns, one of the largest pawn shop companies in Arizona, is today proud to announce a list of the top 30 products that consumers can purchase from pawn shops at significant discounts. Buying from a pawn shop is an excellent way to save significant amounts of cash, while still receiving an excellent piece of merchandise. The problem is that the vast majority of the general public forget about pawn shops as an opportunity to purchase products with the perception that these stores are where you go to sell items and generate some money.
The list is long and extensive and includes a few items that might surprise people. It includes Jewelry (Designer, Gold, Diamonds, Engagement Rings, Wedding Rings, Watches), Guns and Supplies (Ammo, Guns, Scopes, Holsters, Cases, Locks, etc.),Musical Instruments (Guitars, Drums, Saxophones, Trumpets, Accordions, Harmonicas, Flutes, Keyboards),Televisions, Tools, Video Games, Video Game Systems (Playstations, Wii's, Nintendo), Dvd's, Stereos ( Home, Car, speakers), Computers, Binoculars, Motorcycle Jackets, Motorcycle Helmets, Golf Clubs, Camping Equipment, Fishing Poles, Hunting Supplies, Ladders, Professional Tools & Power Tools, Metal Detectors, Knives, Billiard Tables, Sewing Machines, Sunglasses, Tool Boxes and Bikes amongst other things.
A to Z Pawns operates with a different philosophy from most other pawn shops, the shop is very active in the local community and has a passion for helping people. In that respect when the shop is buying products from people looking to raise money, the company tries to be as generous as possible in evaluations of items, and this is reflected in the many positive AtoZ Pawns reviews published online.
The shop also tries to keep people informed with innovative ideas such as this list and regularly publish information that the general public may be able to use to find good deals on the A to Z pawns blog.
"Many pawn shops get a bad reputation because of the service they provide," said Mike Stevens of A to Z Pawns. "Although we are a business, we try to operate in such a way as to benefit everyone in the local community. Where possible, we pay the best prices for people looking to liquidate their assets, but we also know that a pawn shop is a perfect place for buyers to secure outstanding deals on products. That is why we came up with the list idea, as most members of the local community have no idea of the variety of items that can be bought in a local pawn shop."
A to Z Pawns is a locally owned and operated pawn shop based in Phoenix, Arizona. The company has been in business for many years and tries to provide customers with good value, excellent advice, and first-class customer service.
Follow A to Z Pawns Online
Follow on Facebook: https://www.facebook.com/A-To-Z-Pawns-143016522783410/
Follow on Twitter: https://twitter.com/atozpawns1
Follow on Google +: https://plus.google.com/111513491661508620097
Follow Google Updates: https://goo.gl/ic4Nxr
Blog: https://atozpawns.tumblr.com
Release ID: 363220