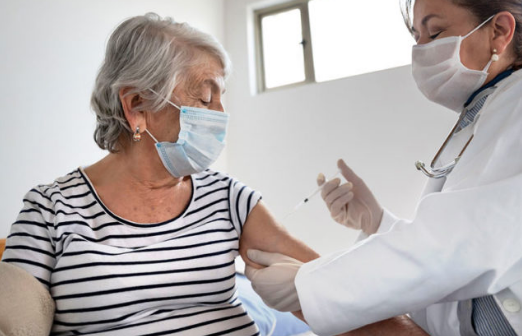 - April 9, 2021 /PressCable/ —
Brand New Day, a Medicare Advantage prescription health plan available in 16 California counties, is recommending that everyone who qualifies get vaccinated as soon as it's available to them in order to achieve herd immunity — a state in which enough of the population becomes immune to the virus thus leaving it with nowhere else to spread. Experts from the plan say that if COVID-19 is not contained through vaccinations it may lead to the birth of new variants of the virus that may be untreatable.
Board-certified internal medicine and geriatric specialist Michael Tehrani, M.D. with Brand New Day says that conflicting news accounts, misinformation on the Internet and a lack of knowledge by the public has created unfounded distrust of the COVID-19 vaccine but he points to the successful vaccination roll-out that milions of Americans have already taken as an indicator that the public need not be afraid of getting the vaccine because achieving herd immunity is critical to stamping out the virus.
So, what percentage of our population must be vaccinated to achieve herd immunity? Dr. Anthony Fauci, director of the U.S. National Institute of Allergy and Infectious Diseases and the chief medical advisor to the president, estimates that number to be 90%.
Brand New Day says that the challenges to achieving herd immunity is that the virus that causes the disease is new and hasn't infected humans before so everyone is at risk of infection. In other words, there's no existing immunity to build on. Another barrier is that it isn't known how strong the immune protection is or how long it will last in people who've had COVID-19.
Brand New Day offers a number of specialty plans in addition to its standard Medicare plan. They include the Embrace Plan for members with heart disease, hypertension and/or diabetes; Bridges Plan for members with dementia and Alzheimer's; SelectCare Plan for members residing in community living, assisted living, long-term care and nursing homes; and Harmony Plan for members with mental illness including major depression, schizophrenia, schizoaffective disorder, bipolar disorder and paranoid disorder.
For qualifying members, the plans cover transportation to and from medical appointments; vision, dental and hearing aids; 24-hour/day nurse and physician line; and health nurses and life coaches. In addition, members with chronic illnesses are not only treated medically, but in a variety of other ways including education about the member's chronic or ongoing medical conditions and avoidable risks, nutrition, exercise, self-testing and monitoring, medication adherence to doctor orders, preventive care planning and linkage to community support programs.
Brand New Day's personalized approach is designed to keep its members healthy and independent and its team of caring healthcare professionals share one common goal — to improve the overall well-being of each member by offering members "healthcare you can feel good about."
For more information about Brand New Day, visit BNDHMO.com or call 866-255-4795.
*****
Release ID: 89004242