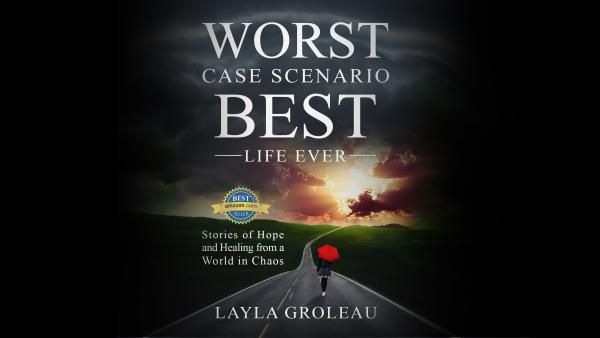 - November 25, 2020 /PressCable/ —
AURORA, IL, November 24 – Educator Layla Groleau became a bestselling author as her book "Worst Case Scenario-Best Life Ever: Stories of Hope and Healing from a World in Chaos" hit the #1 spot of the charts on Amazon.
Driven by the goodness she witnessed in people, Groleau's stories of resilience have successfully made hope and beauty shine through the COVID 19 pandemic, social unrest, and many other challenges.
This author did not fail to provide wisdom and tools for the uncertain present and future.
The success of "Worst Case Scenario-Best Life Ever: Stories of Hope and Healing from a World in Chaos" was evident through the flood of five-star ratings and exceptional reviews from its readers.
Jeff Craig, Superintendent at West Aurora School District 129, was among the many readers wowed by Groleau's masterpiece.
Craig said that Groleau has presented real stories of real people—showing the resilience, grit and kindness during this difficult time. "At least one of these stories will surely make a connection with you and your circumstances," he said.
Fr. Simon Majooran, Pastor of Allegan-Otsego Collaborative Parishes in Michigan, quoted St. Mother Teresa of Calcutta, saying, "the opposite of love is not hatred, but indifference." While some chose to be indifferent in this time of health crisis, some pass around compassion.
Majooran said Groleau is with a compassionate soul and "has compiled stories of pain and anguish that are deeply entwined with a profound message of hope and beauty." He is certain that Groleau's book will help the readers rediscover the truth that within every suffering.
Meanwhile, Mike Pacer, author of "Mercy and Hope", said one might read Groleau's book to be inspired by kindness or to grasp humans' ability to overcome adversity.
Through Groleau's book, Pacer said "the reader will be able to glimpse the divine reflected and emulated in the human ability to love selflessly, hope recklessly and to just "be" for the other."
Groleau's bestselling book is available through https://amzn.to/38SfeSX.
Groleau is a National Board Certified English teacher, a writer, and speaker. She co-authored Parents' College Survival Guide: Planning and Paying for College. As a wife, mother of four, and grandmother of five, she relishes her time with people, big and small. Contributing purposefully to the world around her, she enjoys serving in her church community, creating and visiting beautiful gardens, travelling, and connecting to people of many backgrounds.
Release ID: 88987162