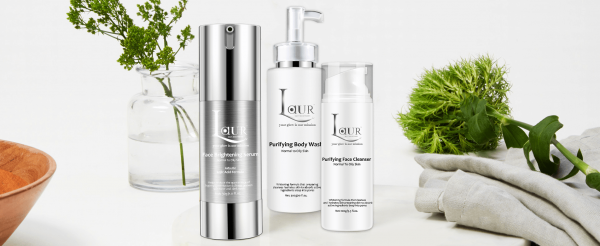 - June 7, 2021 /PressCable/ —
Laur Skin Solutions (@laurskinsolutions) is pleased to announce that it will be launching its skincare products to the public on June 7, 2021. The skincare line features products specifically formulated for those who are motivated to use products created with love for everyone's skin – regardless of ethnicity and gender.
Even the Laur Skin Solutions website states this, answering what makes them special. "That's simple. We love skin. Our purpose for developing this brand is motivated by love, and what is stronger than love?"
The products are available in kits or may be purchased separately on the website. The new line Is for normal to oily skin. It is not harsh and only uses powerful ingredients that work together to create results for consumers. The regimen is designed to improve skin and preserve the health of the consumer's skin.
The Laur Skin Solutions products being released during this line of products are non-hydroquinone. Instead, this line uses natural skin brightening ingredients, including Kojic Acid, Alpha Arbutin, Glutathione, Vitamin C, Retinol, and Salicylic Acid. Laur Skin Solutions skin brighteners help to even out skin tone, brighten the complexion, minimize dark spots, rid the face of blemishes, smooth out furrow lines, and shrink pores, doing it without hydroquinone.
To help clear up confusion, the company states, "skin brightening is not wrong, nor is it something to feel guilty about. As a matter of fact, skin brightening is different from skin whitening. Briefly, skin brightening gives your skin a natural glow. It rejuvenates it, repairing dark spots and hyperpigmentation, bringing upon an even skin tone. Whitening your skin means chemically bleaching your skin beyond its natural skin tone."
The products released on June 7 will be the first line of products from Laur Skin Solutions, with plans of releasing more products in the future. Laur Skin Solutions products can be purchased at www.LaurSkinSolutions.com. Order now and sign up for the Laur Skin Solutions newsletter for promotions, giveaways and product updates.
About Laur Skin Solutions: Laur Skin Solutions is a skincare brand that prides itself on achieving flawless skin using products created with no ethnic or gender boundaries. Based out of Buffalo, Wyoming, Laur Skin Solutions offers products that accomplish safe full-body skin brightening. The company is pleased to produce a brand of luxury skincare products with the highest standards and the use of advanced technology to create truly exquisite formulations.
Release ID: 89022785