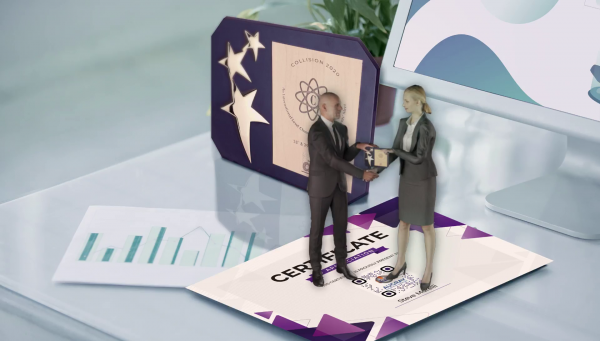 - August 15, 2020 /PressCable/ —
A new report has been launched highlighting the benefits of utilizing augmented reality (AR) and virtual awards to engage and reward employees and stakeholders. AugRay says AR awards bring virtual recognition ceremonies to life while simultaneously boosting morale.
Find out more at https://www.solutions.augray.com/arwards
The newly launched report looks at the unique and innovative approach being taken to help boost morale, engagement, and interactions with employees and stakeholders. The specialist immersive AR, VR, and MR company aims to empower people through valuable visual experiences and says virtual awards are no different.
Many workforces around the world are adapting to new and challenging situations where they are required to work from home instead of in an office surrounded by colleagues. While some companies were ready for such technological demands, others require inspiration to help them reach out to employees and maintain morale.
A 3D AR avatar is easy to create and activate. Connections with employees can be developed as the 3D avatar can talk to them. It is the ideal tool for people who want to celebrate, encourage, or appreciate colleagues, vendors, partners, dealers, contractors, and other stakeholders.
Virtual awards can empower employees and help to create a positive company culture, increase productivity, and much more. Aside from boosting morale, employee recognition can ensure high levels of engagement and quality work remains a top priority.
Awards can be customized and used to motivate workforces whether they are issued annually, monthly, or weekly. AugRay says every organization is unique, so its 3D avatars can be customized for companies and employees. Examples of typical awards include CEO choice award of the year, outstanding performer, salesperson of the year, achiever award, spot award, pat-on-the-back.
A company spokesperson said: "We augment the real and virtual world with fun, emotional, educational, and timely insights. AugRay provides a immersive & engaging medium to consumer information in a way technology has never been able to do."
"We can help you to engage employees while also boosting morale by making them feel appreciated," they added.
To find out more, interested parties are invited to visit the link provided.
https://www.solutions.augray.com/arwards
Release ID: 88972815