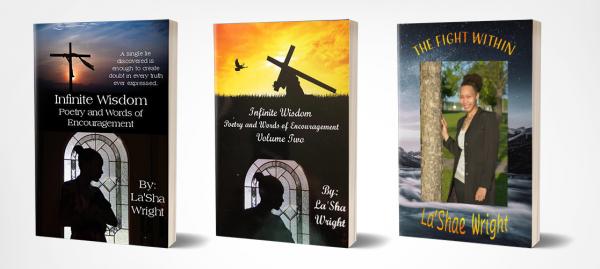 - July 29, 2020 /PressCable/ —
La'Sha Wright recently announced the release of her third volume of poetry, The Fight Within, to accompany her two-book Infinite Wisdom series. Through her work, Wright hopes to inspire others to have more ambition and pursue their personal goals. Wright believes that it's important to nurture yourself in all aspects of life. While others devote themselves to teaching important skills like finance, Wright provides creative nourishment to motivate readers.
Volumes I and II of Infinite Wisdom and The Fight Within follow similar formats that mix poems and letters. With lovely and delicate language, Wright tackles heavy topics like self-doubt, internal struggle, and family. In an interview, Wright recounts why she chose to share her uplifting voice through poetry: "I was so uneasy about the way the world was becoming, and I said to myself, 'Someone's got to make a difference.'"
Reviews and awards:
Reviewers describe Wright's work as "great" and "well done." Readers from any background are sure to connect with Wright's empowering messages and the example she provides by following her God-given talent for poetry. Instead of shying away from adversity, Wright draws upon her personal experiences to inspire others and serve as a shining light in the literary community.
La'Sha Wright recently won the Most Inspiring Author award from Dabb Media for her books in the Infinite Wisdom series.
About the author:
La'Sha Wright is an author and poet with a passion for helping others find personal fulfillment, success, and happiness. As a certified welder, she hopes to expand into metal art to supplement her poetry and share more beauty with the world. Wright can be found online on YouTube and Facebook. Visit www.facebook.com/shaeranea/ for additional information. She lives and creates in Ashdown, Arkansas.
About the book:
The Fight Within and both volumes of the Infinite Wisdom series are available for purchase on Amazon.com.
Release ID: 88969364