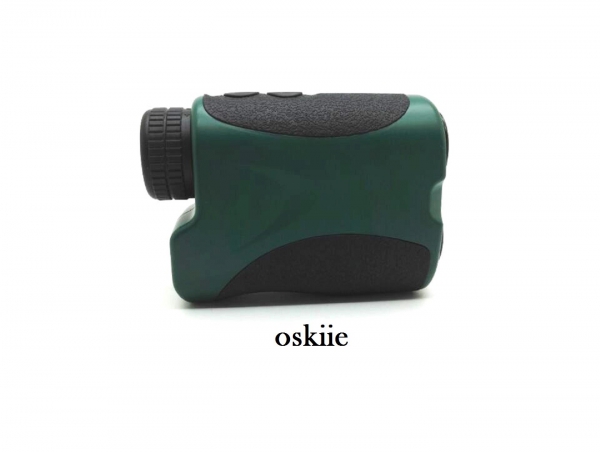 - June 1, 2017 /PressCable/ —
Since it's invention in the 1960's, lasers were designed to make tasks easier and more time effective. Laser technology has come a long way and has been implemented into everyday life through laser eye surgery, laser skin treatments, laser printers, law enforcement devices and so on. Over the past few years, laser rangefinders have become very popular. They're now used all the time by people needing to know true yardage, which is invaluable for a golfer or hunter.
A Florida based company named Oskiie is enriching the golfing and hunting experience with it's PRO600 Laser Rangefinder, which is used to find accurate distance measurements. It serves great use for a golfer to know how far off an aimed target is in order to get closer to the hole. With the Oskiie Pro600 Laser rangefinder golfers can find accurate distances within+/- 1 yard with it's Pin Sensor and Extended Search Seeker Technology. It's objective lens is .950", with a magnification of 6X, and a field view of 7 degrees.
Not only does the Oskiie PRO600 Laser Rangefinder improve the experience of a golfing or hunting adventure, but it can also be used in the construction business, forestry, out on a land survey, fishing, and many other instances when a person needs to find an accurate measurement. Golfers find the Oskiie PRO600 helps to speed up their play, and makes them more efficient with their valuable time.
The Oskiie PRO600 Laser Rangefinder is super lightweight weighing less than 1 pound at 6.526 ounces. It measures 4.5"x3"x1.7", and is easy to grip for someone out golfing or hunting for a long period of time. It is able to withstand extreme temperatures ranging from -4 degrees Fahrenheit to 122 degrees Fahrenheit, and is water resistant.
It's safe to say that the future of lasers is here for the golfing and hunting industries with laser rangefinders such as the Oskiie hunting rangefinder. Laser Rangefinders are quickly becoming invaluable tools to have, and are giving people the opportunity to become more successful at golfing and hunting. Having the proper equipment such as a laser rangefinder makes finding distances faster and can improve a person's target shot. With laser rangefinders, there's no need to dedicate long periods of time trying to figure out how far off an object is.
Oskiie provides a one year warranty for their PRO600 Laser Rangefinder. The company will exchange it for a brand new one free of charge for 12 months should something go wrong with the product. For more information about the Oskiie PRO600 Laser Rangefinder, please visit https://www.amazon.com/Ranges-Finder-Rangefinder-Batteries-Measurements/dp/B01N331M8W
About Oskiie:
Oskiie is based out of Tampa, Florida, and was recently established in 2015. The company develops outdoor and sporting items that are fun, functional, and modernistic for all members of the family. Oskiie is committed to continuing to develop products that provide basic solutions in life.
https://www.amazon.com/Ranges-Finder-Rangefinder-Batteries-Measurements/dp/B01N331M8W
Release ID: 204069