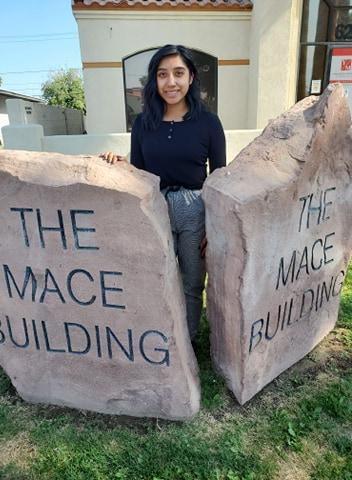 - September 25, 2020 /PressCable/ —
Criminal Lawyers Las Vegas, Yampolsky & Margolis, is pleased to announce the addition of Legal Assistant and Receptionist Lusy De Jesus-Martinez to the firm. A lifelong Las Vegan, Lusy grew up in Clark County, was born at UMC and attended/graduated from Cimarron Memorial High School (Class of 2017). A talented artist, Lusy is soft-spoken, but she is also very driven, motivated, and determined to build a better life for herself and her mother. Lusy draws much of her strength from her mother, a tireless and kind woman that largely raised Lusy by herself—Lusy has long admired her mother's strength of will and tireless dedication and hopes to demonstrate that all of her mother's efforts were well spent. She is hell bent on making a rousing success of herself and easing the burden her mother has long carried without much help.
While Lusy has some contact with her father, and with her stepmother and younger half-siblings that have arisen from her father's second marriage, by and large, the story of Lusy De Jesus-Martinez has been one of her and her mother's struggle to live a comfortable life. Immediately after graduation, Lusy obtained employment with DLP Services, working as a janitor, cleaning office buildings in the wee hours of the mornings and evenings. Lusy is no stranger to work and is willing and able to put in the time, energy, and sweat equity to be a real asset to those at the firm and to our many clients. Lusy is willing to do what's necessary—including working to the point of exhaustion—in order to better her life and the opportunities available to her and we have zero doubts she will approach our client's cases and issues with the same steely determination and refusal to accept anything but success.
In her relatively limited spare time, Lusy is an avid painter and photographer. Beginning shortly after high school, Lusy began painting and taking photographs to capture and share the beauty hidden in plain sight all around her in the majestic mountains of Southern Nevada. In so doing, Lusy found that painting and taking photos helped calm her mind, helped her wind down after school and/or work, and improved her ability to manage stress and anxiety. What began as a bit of a lark and a simple soothing pastime, has actually unearthed talents as yet undiscovered. Lusy was delighted this past summer to actually begin selling her canvases locally in the community to neighbors and colleagues. These folks have seen—and fallen in love with—her unique vision of the world around us all.
An early devotee of Bob Ross, Lusy has found that the more she paints, the more she loves it. Photography is also a burgeoning passion, and she has begun to take more and more photographs—school and life permitting. A graduate of Northwest Career College, Lusy trained to be a legal assistant and/or legal receptionist in search of a fast path to professional employment. Having decided to become a professional assistant, her phobia of needles quickly convinced her that the legal field was more her speed than the medical field. Yampolsky & Margolis are fortunate for Lusy having such a strong aversion to needles and are thrilled to welcome her into the fold.
"Lusy exemplifies the dogged determination, initiative, and creativity that we at Yampolsky & Margolis find indispensable to providing high quality criminal defense and personal injury representation to our clients, the citizens of Clark County, whom we consider our greatest asset." junior partner Jason R. Margolis, said. "Mace and I are thrilled to add Lusy to our team."
Lusy will be working with Yampolsky & Margolis' Record Sealing clients. For more information about sealing Nevada criminal records please visit the law firm's website record sealing page https://www.criminallawyerslasvegas.com/record-sealing-las-vegas/
More information about Yampolsky & Margolis Attorneys at Law can be found on the company's website: https://www.criminallawyerslasvegas.com/
Release ID: 88978291