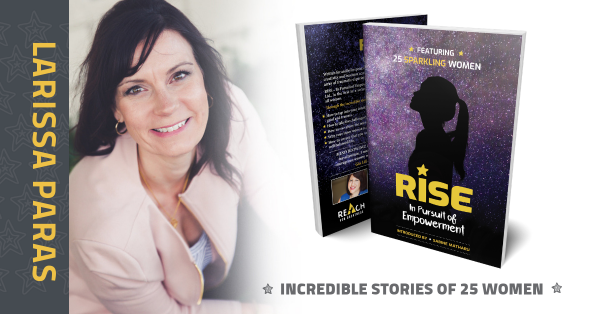 - March 13, 2019 /PressCable/ —
LaRissa's story is entitled "Does fate drive you to become the best version of yourself?" talks about her self loathing and silence around an eating disorders in which she felt like there was no escape.
Furthermore she states that "The clouded headspace, the indecision about life and the self, the unhappiness at the way life has turned out, the feelings of unworthiness can all weigh down so heavily on the soul. It often feels like you fall deeper and deeper into a dark abyss in which there is no return to light and solid ground."
LaRissa Paras's story takes you into that world of despair known so familiarly by teenagers who desperately need a breath of fresh air and a tiny ray of light to find their way out.
LaRissa is an alumna of Central Michigan University and the State University of New York. A veteran teacher, she previously worked in New York and now is in Michigan where she resides with her loving husband and two handsome sons. In 2011, she founded the Lotus Project which is a mentoring program and curriculum designed to help adults mentor teen girls and give them the tools they need to raise their self esteem and succeed. A co-author on the high school US History textbook for the Michigan Open Books Project, she is a also a youth mental health first aid practitioner. LaRissa is a yoga instructor, a Cognitive Coach, and a Mindful Schools educator as well. She enjoys public speaking and therefore leads workshops on important subjects like Mentoring, Positive Self Talk, Mindset Manifesting and Maintaining Healthy Relationships.
Rise – In Pursuit of Empowerment will guide readers in the following areas:
● Tapping into one's intuition and inner strength to overcome stress, grief and trauma
● Taking challenges and turning them into opportunities
● Rising above the noise, victoriously
● A woman's inner strength – discovering it as a force to be reckoned with
● Using one's challenges to live a more fulfilled and balanced life.
It is written by and for inspirational entrepreneurial women whose hidden creativity and business acumen emerged despite facing an array of traumatic experiences, mindset and domestic battles, RISE – In Pursuit of Empowerment, is a beacon of hope for all women.
Through the incredible stories of twenty-five women, readers will learn that while obstacles are a given, they also have what it takes to rise above challenges, create a space and a niche for themselves while turning impossible experiences into incredible opportunities that are profitable and fulfilling at the same time.
Read LaRissa's story and many other inspiring stories by investing in RISE – In Pursuit of Empowerment.
Follow this link:
https://www.learnmoreabout.info/rise
Connect with LaRissa:
Release ID: 491732