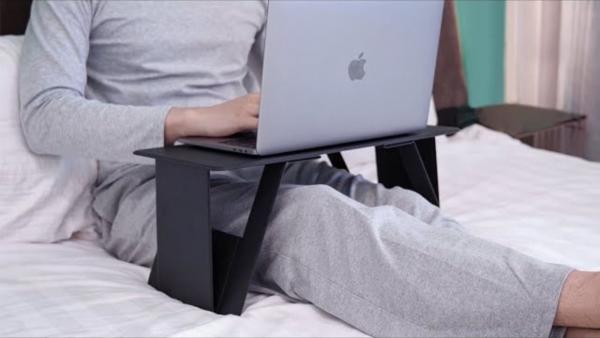 - April 4, 2021 /NewsNetwork/ —
Backers Today have announced the launch of the iSwift Pi, a folding laptop stand and lap desk. The working from home accessory is currently available on Kickstarter and provides a more ergonomic work-from-home experience.
For more information, please visit the website here: https://iswift-pi-the-paper-thin.kckb.st/backerstoday-bwp
The newly launched iSwift Pi is a hard-working and thin-design folding laptop stand. It is created to improve the work-from-home experience for digital nomads by having several functions and folds neatly away once work is completed.
The team behind the stand explains that spending more time working from home made them realize that sitting on the couch or bed for hours wasn't very comfortable. They then came up with the concept of the iSwift Pi folding lap desk for improved working comfort anywhere around the home or when traveling.
The versatile product can be unfolded into a desk with two height options. This can be used on the lap when sitting on the bed or couch, but can also be used at a desk to create a standing desk offering improved posture for the user.
It can also be used as a pad and an angled laptop stand, offering four different positions to work from. These positions also provide the user with the optimum angles to aid posture and productivity levels.
The lightweight iSwift Pi is 0.2 inches thick and 40 ounces in weight, making it extremely easy to transport between the office and home. It is also easy to store in drawers, bookshelves, desk organizers, and even under pillows.
It is crafted from premium PU material which is non-slip, durable, water-resistant, stain-resistant, and easily cleaned with a cloth. The sturdy design means it is also capable of holding a weight of 44lbs and its built-in magnets reinforce the lap desk's stability.
The multi-use lap desk is currently available on Kickstarter with a 40% discount for a limited time.
The creators have said of their product: "Devised to be a lap desk and a laptop stand, iSwift Pi is a game-changer, which makes you feel cozy while having a good posture when you are navigating a new WFH situation."
Those wishing to find out more about the folding laptop stand can visit the website here: https://iswift-pi-the-paper-thin.kckb.st/backerstoday-bwp
Release ID: 89003783