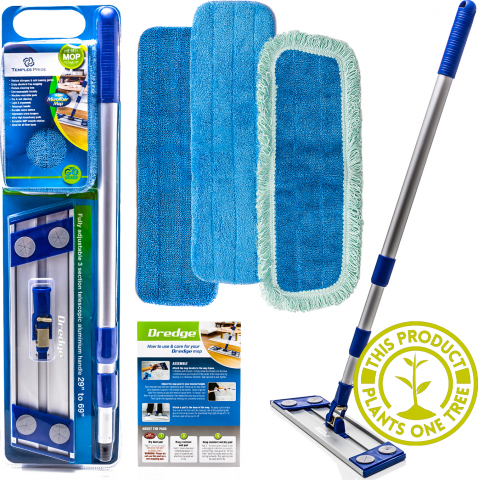 - December 29, 2020 /PressCable/ —
Temples Pride, the creator of the Dredge microfiber flat mop has revealed what makes the flat mop perform better than a cotton loop mop. They explain that the strands on cotton mops rely on gravity to clean the floor. This is due to the fact that the mop strands are not influenced by the user pushing down on the mop. By pushing on a cotton mop when cleaning, the user is affecting a very small area, that area is determined by the size of the end of the mop stick which is very small.
With a microfiber flat mop, however, there is a steady amount of pressure being evenly distributed around the mop head because the mop head is rectangular. When the user applies pressure by simply holding on to the mop head, the force translates everywhere across the pad. This is made even more effective due to the fact that the force being applied by simply holding onto the mop is stronger than gravity, therefore, this enables the flat mop to clean much better than a cotton mop which only has gravity to rely on.
"Microfiber flat mops have really taken mopping to a new level", says Brian from Temples pride, the creator of the Dredge microfiber flat mop. "The head is designed in such a way so as to allow pressure to actually reach the floor and give even more cleaning power. That cleaning power is then combined with the natural cleaning power of microfiber to give a clean that no cotton mop can achieve."
Temples Pride was founded in 2015 with a mission to provide an environmentally friendly & effective microfiber floor mopping system. To further support their mission, they are dedicated to reducing their environmental impact by helping to protect critical forest habitat. For every mop that they sell, they plant 1 tree.
More information about Temples Pride and the Dredge microfiber mop is available on their website.
https://www.amazon.com/Professional-Microfiber-Resistant-revolutionize-Experience/dp/B01AZLM64G
Release ID: 88991282