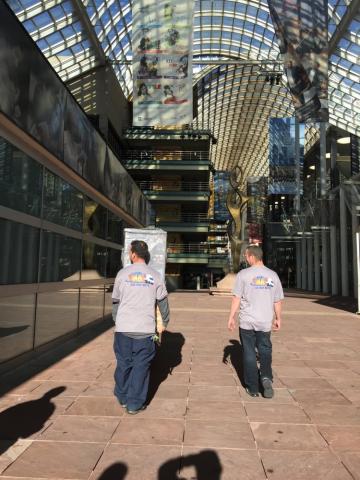 - April 13, 2019 /PressCable/ —
Lakewood, CO- Tru Moving, the premier moving company in Lakewood, CO- has 40 plus years experience packing and relocating residents and commercial businesses around the Lakewood area. The moving company may just know more than anybody how absolutely stressful moving can be, no matter who you are. If you are looking for a reliable and trustworthy moving company in Lakewood, look no further than the team at Tru Moving.
The business's owner, Manny Trujillo comments on the goals of the company, "we aim to offer our customers a headache-free, everything-inclusive, totally painless moving experience for Lakewood residents and business owners. We really do understand that each customer's needs are different, so we actually customize every moving experience, we get that no two moving experiences are exactly alike."
The business provides moving services to Lakewood and surrounding areas like Denver, including packing, furniture blanket wrapping, disassembly and reassembly, as well as providing tools like dollies and straps, the moving company in Denver is also providing the public with tips they feel will help any mover with an easier, seamless moving experience.
Trujillo adds, "The most important thing when it comes to moving, we always recommend to stay organized! In the case you are packing yourself, be sure to use appropriate boxes for all items and labels are applied correctly, especially the fragile and breakable items like mirrors and glass, make sure plenty of crumpled packing paper is applied to the corners."
The moving company in Lakewood also recommends emptying out drawers to ensure items won't be shifting as nightstands and desks could be packed on their sides during the move, with the exception of clothes, which can stay in drawers. When it comes to heavier furniture, it can be pulled out and shrink-wrapped which will save their clients on boxes and cut time putting items away. Perhaps one of the most helpful tips Tru Movers recommends is to wind-up cords and bag all hardware while disassembling bed frames or electronics and securely tape them to the item or keep them in a safe spot you will be able to easily access when unpacking. Trujillo adds, finally "Whatever you do, when you're securing your boxes don't use duct tape, it doesn't adhere to cardboard boxes, save yourself some time and the headaches of boxes coming undone and use clear packing tape."
Tru Movers are ready to help take the stress out of moving, to contact the moving company in Denver visit their website https://www.google.com/maps?cid=9966209199151136484 or call to get a quote.
Tru Movers Moving Company in Denver
303-202-MOVE
trumoving@gmail.com
8805 W 14th Ave
Lakewood, CO 80215
Release ID: 502444